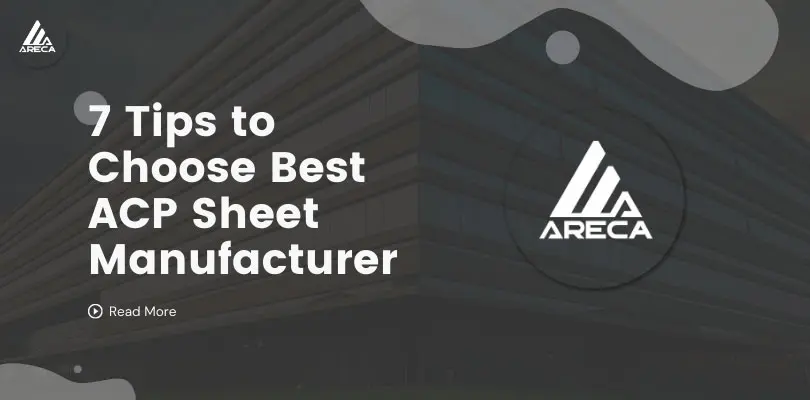 We understand that choosing the ACP sheet is not something you do every day. You may need to purchase an ACP sheet only a few times in your life. For example, when you've decided to use ACPs to build your dream home or remodel an existing one, you'll need to visit the ACP sheet manufacturer.
However, as a beginner, you risk the possibility of buying the wrong product.Nevertheless, if you keep a few things in mind, you can fully eliminate this possibility. Here are the 7 things you should look for when buying ACP sheets or choosing the best ACP sheet manufacturer.
7 Factors To Keep In Mind When Choosing The ACP Sheet Manufacturer:
1. ACP Sheet Manufacturer's Certificates:
Every country or industry has some kind of regulation or policy in place that all manufacturing units, dealers, and suppliers are expected to obey. Manufacturers who follow these standards are issued certificates proving that their processes and products meet industry standards.
So, the first thing you should do while looking for the best ACP sheet manufacturer is to learn about their certifications. For example, ACP sheets that are made in accordance with all industry standards have an ISO accreditation. As a result, always go with an ACP sheet manufacturer that has all the valid certificates.
2. ACP Sheet Manufacturer's Product Line:
After you've checked the certificates and concluded that the manufacturer could be trusted, the next thing to look for is the products. Check to see what kinds of products it has or what categories of products it offers. Determine whether or not the ACP sheet type you need is available with the manufacturer.
There are numerous types of ACP sheets, for example, Interior ACP which includes Partition Panel, Wooden Finish Acp Panel, and Exterior ACP sheets which have countless finishes available, including Mirror ACP Sheets, Metallic finish panels, Glossy ACP Sheets, Marble ACP sheets, and others. So, even if the ACP sheet manufacturer has all of the certificates but does not have the product you require, it is pointless to continue dealing with them.
3. ACP Sheet Manufacturer's Market Reputation:
The third factor to consider is the manufacturer's reputation in the market. Because it's possible that the manufacturer has all of the necessary certifications and even carries the products you're looking for. But what if he has a bad market reputation for reasons such as poor customer service or late deliveries?
We recommend that you drop this manufacturer off your list. Always go with an ACP sheet manufacturer with a high reputation in the market and among customers. You may also learn more about their services and products by visiting their Google My Business profile or review website.
4. ACP Sheet Manufacturer's Delivery Policy:
When choosing a Sandwich ACP panel manufacturer, you should also consider the delivery policy. Assess whether or not the company is capable of delivering your products on schedule and in a safe manner. Look into their distribution infrastructure and export policy as well to determine their strengths.
If you discover that the ACP sheet manufacturer you decide to work with is unable to deliver your products on schedule, you should consider removing it from the list. However, if you are okay with the delayed delivery or the time commitment, you can proceed with the purchase.
5. ACP Sheet Manufacturer's Product Quality:
Another critical issue that you must not overlook is product quality. Ascertain that the ACP sheets have been made in accordance with the highest industry standards and have passed all quality checks. Moreover, the ACP sheets should have all of the needed qualities, such as exceptional flatness, water resistance, and UV resistance, among others.
Nevertheless, when you buy ACP sheets from a reputable ACP sheet manufacturer, such as Areca, you don't have to worry about any of these issues because their products are always of the highest quality and go through a series of testing before they reach you.
6. ACP Sheet Manufacturer's Customer Service:
Assume you've found the perfect ACP manufacturer who provides the items you're looking for, adheres to all industry standards, and has a customer-friendly export policy. However, there are a couple of things that need to be confirmed. For example, find out whether the company provides good customer service or after-sales assistance.
It is possible that you will be unable to install the ACP (Aluminum Composite Panel) sheet and will require the company's assistance. In such a case, the ACP sheet manufacturer should ideally send a person to assist. However, if you discover that the organization does not provide such services, do not associate with them.
7. ACP Sheet Manufacturer's Infrastructure:
The last thing to consider when choosing the best ACP sheet manufacturer is the quality and efficiency of their infrastructure. Assume you require 1000 ACP sheets in 15 days. The company also promises that it will be delivered by then. However, you discovered that the company lacked the necessary infrastructure to finish the sheets by that deadline. So, what should you do now?
We recommend that you drop the deal as soon as possible. There is no point in working with a company that is unable to meet the demands of its customers. Rather, you should collaborate with an ACP sheet manufacturer like Areca that has the cutting-edge infrastructure and modern manufacturing technology.
We are confident that if you follow all 7 of these guidelines while searching for the best ACP sheet manufacturer, you will be able to discover one that possesses all of these qualities.
Areca is a well-known Aluminium Composite Panel Sheets manufacturer in India. The company employs cutting-edge technologies and is equipped with the infrastructure to produce the best ACP sheets.Contact us to learn more about its product line, export policy, and delivery terms.