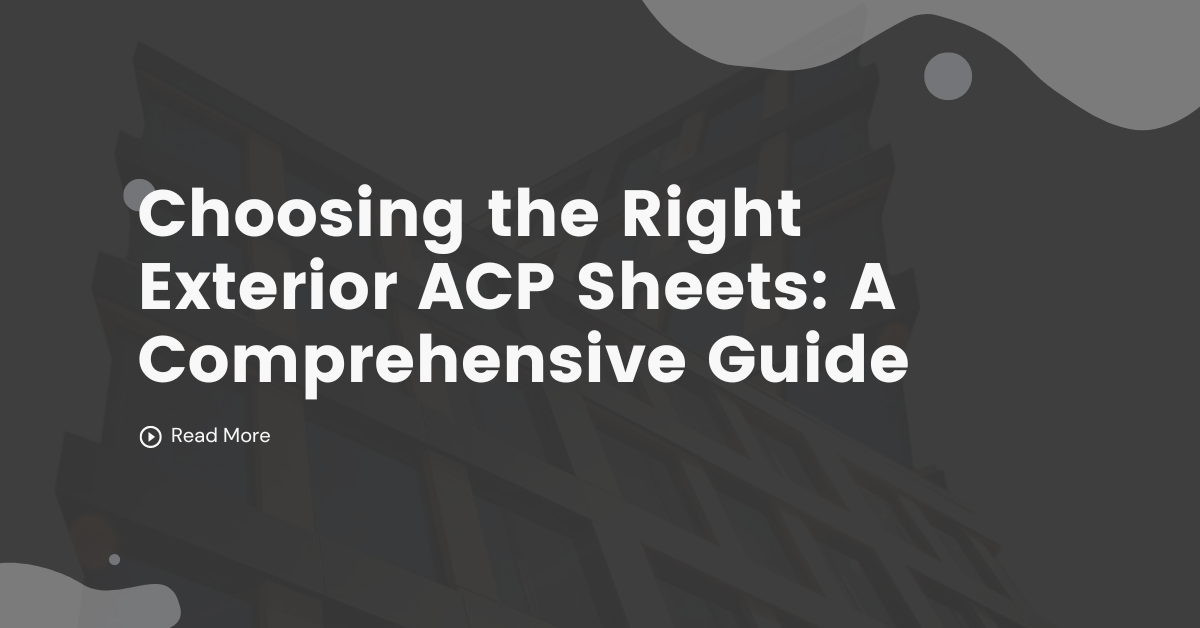 One cannot neglect the importance of having perfect ACP sheets installed on their exterior for amplifying the looks of their house. And in today's advanced and modern world, the need for ACP sheets has become more. People are investing heavily in Aluminum Composite Panels as they have gained immense popularity in this generation and have a positive impact on the life of a building.
There are a wide variety of reasons which is why they are considered beneficial for the buildings. First of all, it helps in increasing durability, is lightweight, and also has a few special properties like fire-retardant and anti-bacterial. However, it all narrows down to choosing the right panels for your specific building as it requires immense visualization to get your ACP sheet thing correct.
Understanding The Exterior ACP Sheets
The term ACP Sheets stands for Aluminum Composite Panel Sheets and its composition consists of two thin coated aluminum coils with polyethylene or FR core stuffed in between. Initially, it was applied to the aviation sector however owing to its benefits its application has now been broadened to various sectors which include buildings too. Customers are acquainted with the opportunity of customising and choosing the ACP sheets as per their requirements. Most of the ACP sheets are manufactured from recycled aluminum sheets therefore they also contribute to sustainable development.
ACP Sheets have become really popular for exterior applications due to the various advantages they offer to customers. ACP sheets are durable, long-lasting, weather resistant, and easy to maintain because of which they are becoming very popular in the construction industry. Moreover, the versatility of designs that a customer gets in ACP sheets is countless and helps to create your favorite design.
Overall, ACP sheets are manufactured so that your structure can stand out from the rest. The unmatched beauty of these panels will surely help you in creating your perfect look and favorite environment.
Factors To Consider When Choosing Exterior ACP Sheets
It is important to consider several factors when choosing the perfect Exterior ACP sheets for your building. The factors are mentioned below -
Material Quality
The quality of the ACP sheets should not be compromised when purchasing the panels. Good quality ACP sheets should consist of smooth and non-sprinkling surfaces. It shouldn't have any damage or scratches because this will reduce the quality of the board.
Thickness
The thickness of the good quality ACP sheets should be around 3, 4, or 6mm. The thickness of the ACP panels plays a decisive role in picking up a good quality board.
Coating Options
ACP sheets are also subject to surface modifications which eventually affect the price of the sheets. A good-quality ACP sheet should have been treated with coating options such as PVDF or PE for better resistance to weather.
Color Options
There are three main types of color options available to customers- semi-gloss, gloss, and matte. You can explore our acp sheet color collection to find the perfect match for your facades.
Fire Resistance
Fire resistance is the must-have feature that should be included in the ACP sheets. The outside layer of aluminum prevents the heat from entering the center thus saving the important structure of the building.
Warranty Offered
A warranty on good-quality ACP sheets is a must factor to consider because it covers manufacturing defects, any changes in color, or gloss reduction.
Design And Aesthetics
ACP sheets are one of the most versatile pieces of sheets that are available in the market. They are perfect for any type of commercial as well as home improvement projects. There are a wide variety of designs available in the market which includes galaxy shade, wooden design, metallic and solid design, and earthy shades. They all are ideal for creating a perfect ambiance according to your own set of requirements.
In addition to all of that, there are endless possibilities that you can discover in ACP sheets with the help of various colours and textures. Different sets of colours help create different kinds of environments such as red and white for traditional aesthetics, yellow for a cheerful atmosphere, green for creating a warm ambiance, and dark colors for creating a classic look.
Overall, it becomes convenient to create any kind of look with the availability of different types of patterns, styles, and colours in ACP sheets.
Performance And Durability
If you are planning to purchase a new ACP sheet for your building, it is one of the most important factors to consider. ACP sheets have the tendency to withstand weather changes, UV radiations, and moisture. Buildings are always prone to weather changes, heat, rain, and other environmental effects. This is the reason it becomes important to choose the best quality ACP sheets for your buildings that can resist harsh environmental changes.
A high-quality coating should also be ensured for the long-term performance of the ACP sheets which would also result in minimal maintenance from the customer's point of view.
Installation And Maintenance
ACP sheets must be installed by professionals in adherence to the guidelines issued by the ACP sheet manufacturer. Basically, four installation techniques are widely used by professionals which are wet sealant joint, hanging method, dry gasket joint, and narrow open joint.
Moreover, the shape and texture of ACP cladding sheets are preserved for a considerable amount of time with little to no maintenance. It only requires a quick wipe with a towel to get rid of any dirt or dust particles on its surface. Avoid using harsh chemical detergents, or corrosive substances for increasing the lifespan of the ACP sheets.
Compliance And Safety
Compliance and safety are also very important factors to consider when choosing an ACP (Aluminium Composite Panel). ACP sheets must adhere to the industry standards and building code for ensuring proper maintenance and functioning of the ACP sheets. For better durability of the ACP sheets, they must adhere to industry quality standards. To ensure its stability and resilience to wind loads and other environmental variables, ACP sheets should be put on a structurally competent substrate.
It is important to choose ACP sheets that are certified by reputable third-party organizations. Besides that certifications such as sustainability certifications are also important for ensuring the impact of ACP sheets on the environment.
Conclusion
Finally, we have discussed in the above article how important is to consider the factors in the ACP sheets which include durability, sustainability, ease of maintenance, and safety. It is crucial to choose the correct exterior ACP (Aluminium Composite Panel) sheet that meets the expectation level of all of the above-discussed things. Choosing a reputed manufacturer that is renowned for manufacturing exceptional-quality panels with strict quality control procedures and superior craftsmanship is also a plus point.
One must evaluate the requirements of the project before setting up an ACP sheet. Take into account elements like the environment, sunshine exposure, wind loads, and maintenance requirements. To ensure long-term performance, choose an ACP sheet with the proper level of weather resistance, UV stability, and structural integrity.
Consider the intended building facade design and finish as well. ACP sheets come in a huge selection of hues, textures, and finishes. Pick a sheet that is in line with the architectural goals, improves the building's appearance, and blends in with the surroundings.
Finally, consider the ACP sheet's sustainability features as well so that it can have a low impact on our environment. At Areca, we have a wide range of ACP sheet collections to explore.