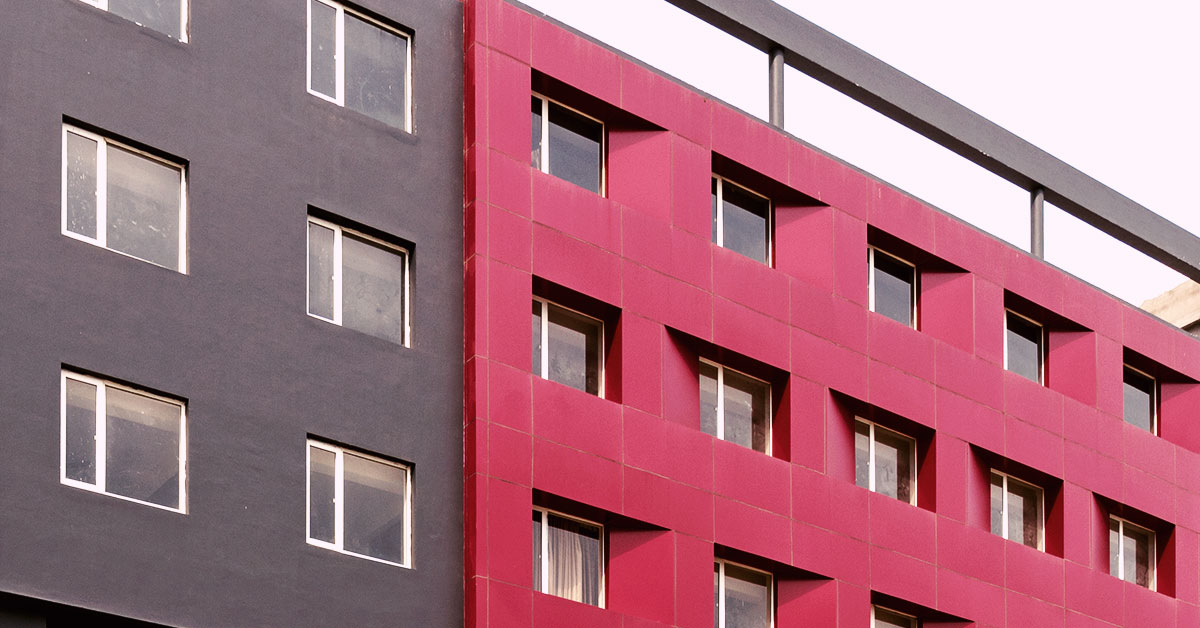 With the aid of ACP sheets, world architecture is gaining a new identity. Architecture is being reshaped by the aluminum composite sheet. Its sustainability and versatility are pushing engineers to think outside the box.
Today, ACP panels can be seen on facade wings, mirrored windows, and console panels these days. It has become useful to give a modern and stunning look to many buildings. The Emporium building, which was constructed for the 2022 FIFA World Cup, is a shining example of this.
Let's see how ACP sheet is used in modern buildings to achieve a futuristic look.
How The ACP Sheet Is Rebuilding The Modern Day Architecture?
1. The ACP Sheet Is Revolutionizing Modern Architecture
An aluminum composite panel is a blessing in disguise for modern architecture. It enables engineering firms to innovate in their construction. Many architects have used these sheets as a decorative feature since their debut on the market. Mirror ACP panel is the best option for many attractive and trendy designs. Also, glossy ACP sheets can be used on blinds, ceilings, doors, and louvers. This is its area of expertise.
2. Sustainable Designs
Aluminum is a very amazing element. You can convert a small part of it into a thin sheet. Because of the quality of the aluminum composite sheet, it is easy to get many such minds to get into the design. In the future, you are going to see many more amazing transformations of it.
ACP sheets provide sustainable design. Engineers use glossy ACP panels with glass panes. So that it can capture maximum daylight. These sheets are made from aluminum alloys. That's why it is highly productive.
Also, the aluminum sheet is recyclable and its complete recycling is possible. That's why the cost of these sheets is very less. Therefore, apart from being sustainable, it is also economical. It does not cause any harm to the environment. That's why it is called the construction material of the future.
3. ACP Roofing Sheet
The ACP sheet gives the structure a robust aspect while maintaining a refined appearance. As a result, aluminum sheets are commonly utilized in roofing. Its modest weight makes it simple to install and also makes it easy to work with.
It is especially visible in large glass structures during the roofing process. The ACP panel is also waterproof, fireproof, and scratch-resistant. As a result, it provides a sustainable design and prevents roof damage for many years.
4. Skyscrapers And Facade Designs
ACP sheets are well-known for their use in skyscrapers walls and facade designs. The invention of these sheets is regarded as the X Factor in the construction industry. Previously, facades built of glass design were quite heavy and not very strong. However, the ACP sheets' flexibility and durability aided much in the construction of towering structures.
Nowadays, these sheets become a must-required material for skyscraper buildings. It adds support to the structure as well as an attractive design. That is why it is becoming the first option for such architects.
5. CNC Window Panels With ACP Panel
CNC windows first became famous in Arab buildings. Earlier wooden sheets were used in this. But the CNC windows panel with its strong and perfect fine design became a relatively more suitable option. And along with it, the use of ACP sheets also began to grow due to similar properties. It gives a mesmerizing look.
Due to the lightweight and flexibility of aluminum sheets, their use has increased manifold. There is an endless variety of designs, finishes, and colors in both of these panels. That's why you are able to provide your home with any imaginable design.
Why Areca Is The Best Best ACP Sheet Manufacturer In The USA?
Engineers nowadays require a material that is customizable, flexible, and robust. The aluminum composite panel is completely tailored to your specifications. We guarantee the highest quality and durability.
At Areca, our ACP Sheets are precisely manufactured by our world-class and experienced team. We have top-tier quality testing facilities and use cutting-edge. Our product is subjected to several quality inspections that adhere to both national and international standards. As a result, we provide the highest level of quality assurance.
Along with quality, we also specialize in providing variety. We manufacture a wide range of products anything from wooden texture to mirror ACP sheets.