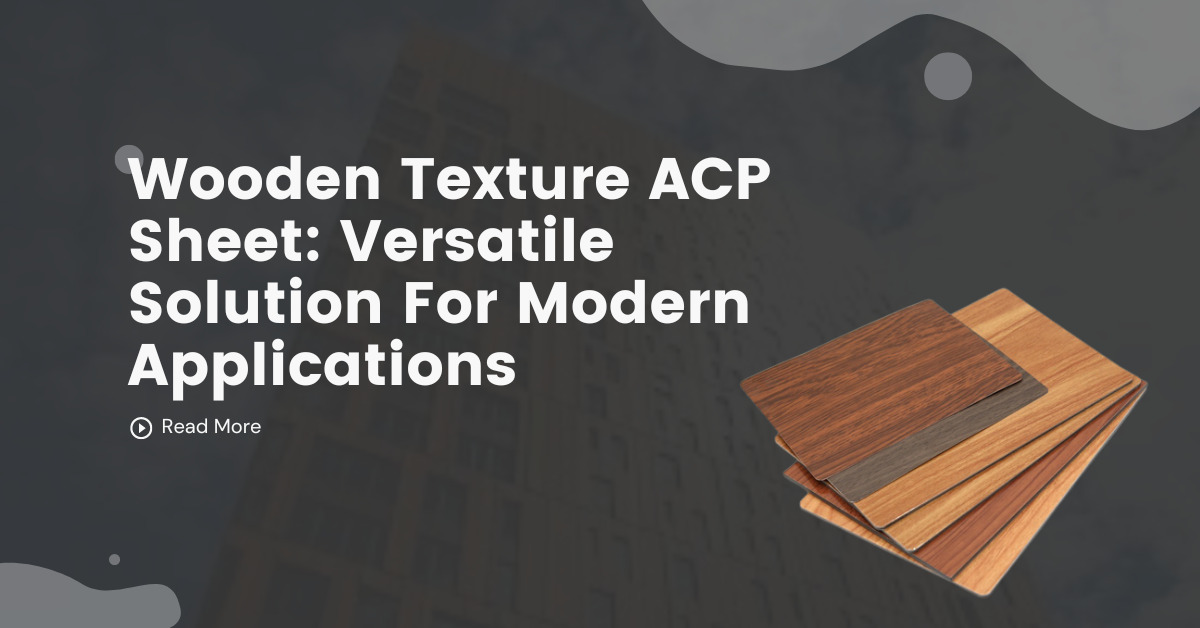 Wooden Textured Aluminum composite panel, or ACP sheet, is an exceptional decorative solution that caters to a diverse range of modern applications, such as facades, interiors, signage, and modular kitchens. This versatile material is utilized for a wide range of purposes, ranging from false ceilings to machine covers, and from exterior and interior architectural cladding to container construction. Its unparalleled quality and durability make it the go-to choice for discerning builders and architects alike.
When it comes to the production of Wooden Texture ACP sheets, it is imperative to seek out the finest manufacturer in the realm. Areca has achieved the pinnacle of excellence by securing the foremost position in the list of the most exceptional Wooden Textured ACP sheet manufacturers. Behold the grandeur of the company's remarkable product line, which showcases an unparalleled array of Wooden Textured ACP panels.
These exquisite panels, available for both interior and exterior use, are crafted with the utmost precision and care, making them a true testament to the company's unwavering commitment to excellence. Using state-of-the-art technology and the best brains in the business, a skilled team of professionals has designed these panels for a wide range of applications.
Here you may find information about the many options available for wood-patterned ACP sheets. Furthermore, there is an almost unlimited variety of colors and designs from which to choose. Let us go through this blog to see the applications for which Wooden Texture ACP Sheets are helpful.
Applications Of Wooden Texture ACP Sheets
Interior Wall Cladding
What if I told you that you could save costs without sacrificing the look of natural materials like wood? The Wooden textured ACP sheets are very versatile, lightweight, and environmentally friendly than real wood. These details ensure that your home's interior walls will be protected from the elements for a long time.
In addition to this, Wooden texture ACP sheets are notable for their adaptability in terms of aesthetic options. The answer opens the way for architects and designers to realize a wide range of natural wood design goals. The versatility of the material allows for a wide range of design possibilities when working with wooden textured panels.
The flexibility of wooden textured ACP Sheets to create unique and aesthetically pleasing cladding solutions means that they may be used in residential as well as commercial settings.
Exterior Facade
Facade cladding that is both visually appealing and functional may do wonders for your company's image. Envision yourself designing a stunning facade that everyone who sees it will be in awe of.
You may do this by using a vibrant color scheme that includes Wooden Texture ACP sheets. Those who get a glimpse of your building will be rewarded by the sight of its aesthetic beauty. This beautiful and unique exterior design is a wonderful reflection of your brand's identity and values. Using this method, you may attract new customers and, in the end, achieve more success.
The innovative style and attention-grabbing hardwood textured ACP sheet color will captivate any audience. It has unmatched resilience and lifespan in their class.
ACP sheets are very sturdy and can survive any climate with no visible evidence of wear and tear. Amazingly, these wooden textured ACP sheets can survive in any environmental condition ranging from sweltering summers to bone-chilling winters with ease. Apart from that, you will appreciate how simple it is to clean and maintain, them making this panel the best choice for facades.
Furniture Design
Will the wooden look ever go out of style? What's the secret behind its timeless appeal? It has been present since the 1980s, and it shows no signs of disappearing anytime soon.
The wooden texture ACP sheets possess an unparalleled ability to create an atmosphere of natural elegance, making them the ideal choice for those who desire a truly authentic ambiance in their surroundings. First impressions are always the most memorable. Like everything else, the initial impression made by your apartment or building is crucial.
Among these, your home furniture is the most important which enhances the interior of the home. Hence when considering the best aesthetic material for furniture, a wood textured ACP sheet comes to mind as a trendy alternative.
It creates an eclectic atmosphere with its varied textures and patterns that imitate real wooden materials. Wooden textured ACP is blended into the textures and patterns of wood. It can be useful in modern furniture species such as wardrobes, cabinets, tables, door panels, wall panels, false ceilings, etc. that make the space more inviting and conducive than ever before.
Retail And Exhibition Space
Think of the eye-catching difference wooden textured ACP sheets may make to the external facade of your building. These eye-catching wooden panels distinguish your business from the competition and boost its worth. It can be a wonderful reflection of the brand identity and ideals. You may leave a long-lasting impression on your audience by choosing from among several different color combinations of wooden texture ACP sheets.
Facade claddings, signage, an eye-catching logo and a well-designed interior are just some of the ways in which the addition of wooden ACP sheets to a retail or exhibition space may increase its brand value and elevate its atmosphere. Businesses may express their individuality and create eye-catching, memorable patterns with the use of Wooden textured ACP sheets.
Conclusion
The Wooden texture ACP sheet has truly revolutionized the commercial and residential sectors by setting a new standard for brand value and style in recent years. Its long lifespan and high durability, make them a right option than any other material. The Wooden ACP Sheets also provide an elegant and refined atmosphere, perfect for complementing the sleek design of your home or office.
Wooden textured ACP sheets manufactured by Areca are the best option since they are backed by a team of experts that will help you through every stage of the design and installation processes. We have a comprehensive product catalog with options for a variety of applications, check it now.