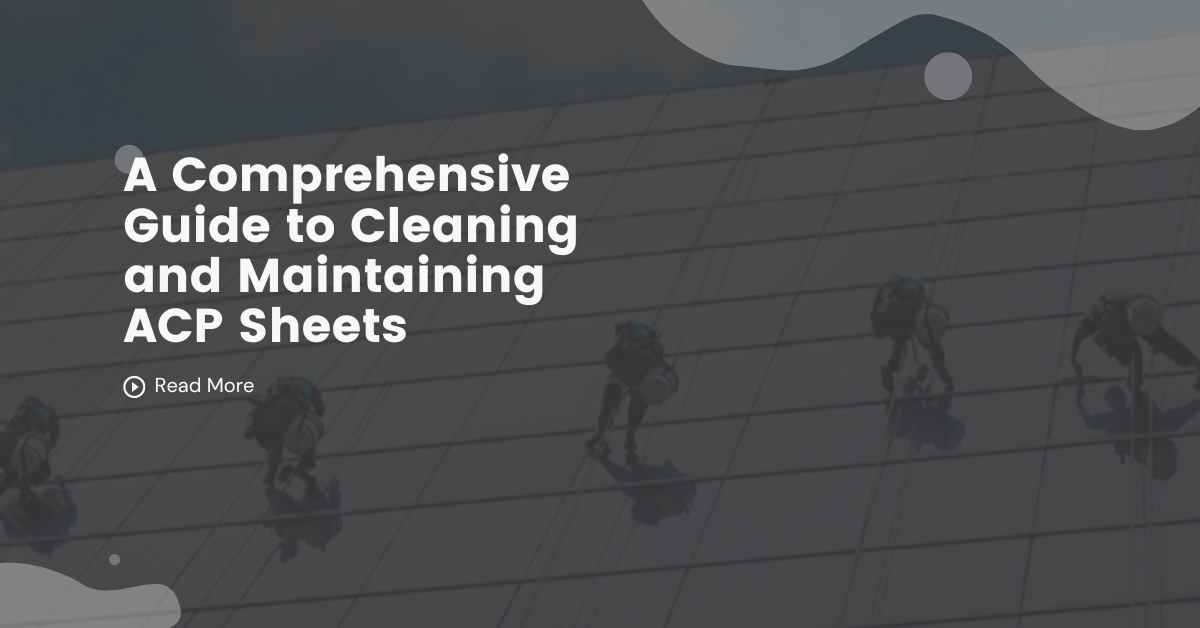 The ACP sheet (Aluminum Composite Panel), is a common building material notable for its sturdiness, adaptability, and aesthetically pleasing qualities. They are often used in interior design, signage, and exterior building cladding applications. But maintaining and cleaning is essential to retaining the longevity of ACP sheets.
So here, we will provide you with all the information related to cleaning and maintaining aluminum composite panels. So let's get started.
What Are ACP Sheets?
An aluminum composite panel is a flat panel made up of two thin aluminum sheets bonded to a non-aluminum core. The two coils are joined with a non-aluminum core to make them lightweight and robust. To meet the requirements and purposes of the business, ACP sheets come in various colors, textures, styles, and sizes.
How To Clean ACP Sheet?
Due to its adaptability and toughness, aluminium composite sheets were used in various settings, including interior design, signage, and building facades. To maintain ACP sheets for longer, you must clean sheets frequently. Here are some points to consider while cleaning ACP panels.
Tips To Clean ACP Sheets
Due to their sturdiness and low maintenance requirement, ACP sheets were utilized frequently for cladding exterior buildings. Following are a few general cleaning tips for ACP panels:
- Try to use pure water to wash away the accumulated dirt.
- If dirt still exists, remove it with a soft cloth dipped in a diluted mixture of mild soap and fresh water.
- Use an isopropyl solution to clean the ACP panels if a solution of mild soap and clear water cannot remove dirt from the surface.
What to Avoid When Cleaning ACP Sheets
Due to their usefulness and aesthetic appeal, ACP (Aluminum Composite Panel) sheets are frequently used for building facades and signs. Avoiding specific cleaning techniques while using ACP panels is vital because they risk harming the material or its finish. Following are some of the mistakes that you should avoid in cleaning ACPs:
Harsh chemicals: On Aluminum Composite Panels, stay away from using harsh chemicals, such as concentrated alkaline or acidic cleansers, or solvents since they may harm the sheets' surface coating as well as develop discoloration.
Using stiff brushes to scrub: ACP sheets can be damaged if harsh brushes or brushes with abrasive bristles are used. Instead, gently clean the panels using smooth brushes or clothes.
Skip rinsing: Never skip the rinse ACP panels with water after cleaning to remove any leftover cleaning agent or residue.
Abrasive materials: Don't utilize steel wool or other abrasive cleansers on ACP panels since they can scrape the surface and result in long-term damage.
Step-By-Step Instructions On How To Clean ACP Panels
Step 1: Before starting the cleaning, collect all the required materials and tools.
Step 2: Look for debris, filth, and stains on the ACP sheets. Gently sweep off any loose dirt and debris using a soft brush or broom.
Step 3: Get the cleaning solution ready. In a bucket, combine warm water and a light detergent or soap. Since they harm the ACP surface, please refrain from using gritty or intense cleaning agents.
Step 4: Using the cleaning solution, circular motions should be used to gently scrub the ACP sheets after soaking the sponge or cloth. Work downward, starting at the top. Pay particular care to areas where dirt or stains have formed.
Step 5: To remove the soapy debris, properly rinse the ACP panels utilizing clean water from a hose. To achieve a complete cleaning, rinse all areas, including edges and corners.
Step 6: Use a non-abrasive cleanser made specifically for metal surfaces if the detergent cannot remove any callous spots. To use cleaner, follow the manufacturer's directions properly.
Step 7: Use a soft cloth to dry the ACP sheets, or let air dry them naturally. Avoid using rough or abrasive items when drying because they can damage the these sheets.
Step 8: Recheck the ACP sheets for any residual dust, stains, or streaks after drying them.
How To Protect Aluminum Composite Panel
1. From scratches
Use protective films: You can cover the surface of ACPs with protective films and covering tapes to prevent scratches throughout installation or assembly. Whenever installation is finished, these films are simple to remove.
Regular cleaning: To prevent scratches, frequently wash the surface of ACP sheets to get rid of dirt and debris. Due to regular cleaning, dust cannot settle on the surface.
2. From direct sunlight
You can take the following actions to shield ACP (Aluminum Composite Panel) sheets from direct sunlight:
Use UV protective coating: Although the ACP sheet is UV resistant. But for more protection, you can put on an especially created UV shield for sheets. These coatings give another layer of protection from UV rays and help extend the life of Aluminum composite sheets.
Avoid dark-colored ACP panels: They should not be used as they tend to absorb more heat and are more vulnerable to UV deterioration. ACP sheets with lighter colors are usually more resistant to fading and damage from sunshine.
3. From extreme weather conditions
Building facades frequently use ACP (Aluminum Composite Panel) sheets because of their sturdiness and visual appeal. You can adhere to the following advice for protecting ACP sheets against extreme weather conditions like heavy rain, high winds, extreme temperatures, as well as UV radiation:
Seal the edges properly: ACPs are susceptible to moisture infiltration at their edges, which can result in swelling and delamination. Cover the edges of ACP sheets with the proper sealant to stop water from penetrating and safeguard the panels from moisture-related damage.
Choose high-quality ACP panels: Choose ACPs produced by recognized companies that use top-notch materials. These panels are better suited to withstand weather conditions and are less likely to disintegrate or warp over time.
Conclusion
The ACP sheets can be protected from damage and stains by performing routine cleaning and maintenance procedures, including clearing away dirt and debris, avoiding harsh chemicals, and utilizing soft cleaning techniques. Keeping the panels out of extreme weather, such as direct sunlight or persistent rain, can also help to increase their longevity.
If maintained properly, ACP sheets are a wise investment for any building or architectural project. Because they may retain their visual appeal and practical effectiveness for years to come by adhering to particular upkeep and cleaning guidelines. For detailed care and cleaning instructions for your ACP panels, always consult the manufacturer's policies and, if necessary, seek expert assistance. Check out our collection to see different designs and finishes of the Aluminum composite sheet.