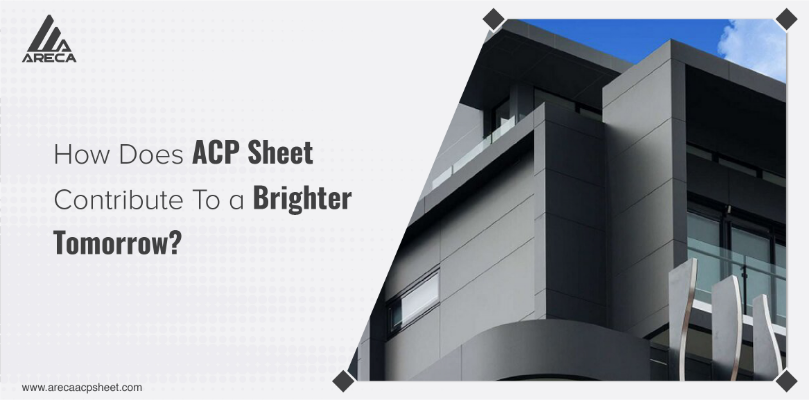 The earth cannot support the number of natural resources that humans are using. The enormous waste and pollution generated by the construction of infrastructure are having a detrimental impact on the environment's biodiversity. We must therefore switch to materials that are sustainable and do not harm the environment.
ACP sheet Cladding provides a more contemporary and secure construction. Aluminum composite panels are now used as the cladding material for modern structures. In recent years, architects have found ACP sheets to be their inspiration because they have a wide range of applications. This has led to its widespread use in construction and facade elevations.
ACP sheets are extremely popular in the facade elevation industry for many reasons beyond their pure visual appeal. Let's examine a few of its benefits to help builders make intellectual decisions as they get ready for their next big project.
What Advantages Do ACP Sheets Offer To Promote Sustainable Development?
Here are some advantages of the ACP sheet that encourages sustainable development.
Firstly, compared to regular solid sheets, the percentage of ACP sheets used in panels consumes lower energy. It reduces the amount of energy needed for production.
Furthermore, The ACP sheet cladding has openings on the top and bottom. Because of the gap, the building's interior is naturally ventilated from top to bottom. The gap is beneficial for the building's thermal and sound insulation. This will lead to lowering energy costs and noise pollution inside a structure and thus contribute to environmental protection.
2.
Diminishes Heat Reflection
For a sustainable exterior, ACP sheet panels are the ideal replacement for glass panels. Glass panels are considered low maintenance and add aesthetic value. Nevertheless, glass contributes to global warming by scattering heat into the atmosphere.
According to the facts, the earth heats up by one degree per year. ACP sheet panels are an excellent alternative to glass panels. Because of their comparable finish, they do reflect a little amount of heat into the surrounding air.
3.
Easy Damage-free Installation
Aluminum has the special quality of being very adaptable to customization, making installation simple. Instead of destroying the wall and other resources to create a support framework, aluminum frames are a widely used technique for mounting the panels.
After the panels are placed on the walls, an ACP sheet is fitted over them using riveting and nuts. The best method for achieving the necessary safety and beauty is ACP. ACP panels are a great cladding, installation, and facade utilization for buildings, with a limitless variety of shapes, sizes and finishes options.
4.
Developing a Natural Facade
ACP sheet is typically utilized in facade insulation systems for rain screens. A building's interior can be kept cool with the use of rain screens and ventilated facade, which can also protect the structure from the effects of aging.
Additionally, the panel aids in providing the seedling with structural support, encouraging the development of bio-diverse plants on a building's walls.
ACP cladding is popular for many reasons, one of which is that it offers protection from fire hazards. Its ability to resist fire is provided by the mineral core that is encased between two ACP Sheets. The fire-retardant ACP panels minimize the release of harmful gasses and chemicals in the event of a fire catastrophe.
The panels' adhesives and hexagonal construction slow the spread of fire for at least three hours. These panels produce non-toxic water vapor as smoke when they catch fire. It results in fewer casualties and safe evacuation.
6.
Stylish & Safe Alternative
ACP sheet is a definite victor in all situations and for all seasons given their incredible advantages when all the positives are considered. It has the best stylish color and texture range available, is versatile, and is open to modification. It is resistant to fire, heat, weathering, and water.
Super technologies support it, allowing for material advancement. If you look at the wonders of new construction in industrialized countries and many other tourist spots, you will realize that ACP Panels have left their imprint everywhere.
7.
Durable & Long-Lasting
PVDF, or polyvinylidene fluoride, resin is applied to the exterior of aluminum composite panels in order to enhance gloss, make the surface UV-resistant and durable. Even in severe weather, these panels function the best. These sheets reduce the possibility of cross-contamination rather than fostering germs and microbes. Its smooth, flat surface makes it simple to clear off dirt and debris. Your ACP sheet cladding can be restored to like-new condition with just some water, light soap, and a soft cloth.
This means that it doesn't need to be replaced like wood or other materials after a few years. As a result, it is more environmentally friendly and sustainable.
It is crucial to keep an eye on our environment as smart cities rise in popularity. Choosing the right cladding material such as an ACP sheet contributes to sustainable development by reducing waste.
Areca is a well-known manufacturer of aluminum composite panels in India, offering a wide selection of high-quality ACP panel options. Discover more about our products by perusing our collection of ACP sheets.