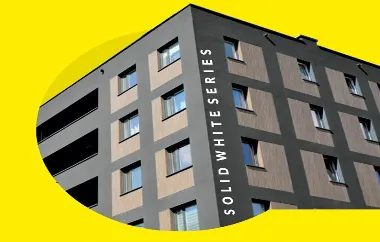 It might be difficult to choose the best building material now, there are so many choices available. Many customers base their materials on their available budget. Getting premium features at a competitive price, though, is more difficult. However, aluminum composite panels (ACP Sheet) have helped us to better control the problem. In general, a number of variables affect how much aluminum composite panels cost.
Aluminum composite panels are a popular choice because they are lightweight and durable. Let's see what types of ACP sheet color are available?
ACP Sheet Color Options
There are many different types of ACP sheet colors available on the market. Some of the most popular colors include black, white, silver, and gold. However, there are also several other colors available, including blue, green, and red.
In addition, several different finishes can be applied to aluminum composite panels, including wooden, glossy, and metallic. This versatility can sometimes make it difficult to choose one for a specific application.
How Do You Choose The Best ACP Sheet Color For Your Needs?
When it comes to aluminum composite panels, there are a lot of different colors to choose from. So, how do you know which one is the best for your needs? Here are a few tips to help you decide:
1.
Think About The Overall Look You Want
Are you going for a sleek and modern look, or something more traditional? The ACP sheet color can play a big role in achieving the look you want.
2.
Consider The Environment You'll Be Using The Panel
If you'll be using the panel in a bright, sun-filled space, you can use light or darker ACP sheet color. If you'll be using the panel in a darker space, or one with a lot of shade, you'll want a color that will reflect the light.
3.
Take Into Account The Other Colors In The Space
If you're using the panel in a space with a lot of other colors, you'll want to choose a color that will stand out, but still Coordinate well with the other colors in the room.
4.
Decide What's Important To You
Some people might prefer a non-reflective color, while others might prefer a color that is easy to clean. Think about what's important to you and choose a color accordingly.
No matter what color you choose, aluminum composite panels are a great way to add style and sophistication to your home or business space.
5.
Cost Of Transportation
The last but not least element that affects the price of an ACP sheet can be the cost of transportation. The cost of transportation does not have a set price and may differ from provider to provider. Even some businesses could provide free delivery services. Make sure by speaking with your provider and learning more about this problem. Price increases as distance increases. Because of this, it is important to consider how the project's location will affect labor rates, transportation expenses, and taxes.
These were some of the elements that affect ACP sheet pricing. Different core materials make up aluminum composite panels, which can come in a range of shapes, colors, and other aesthetic and structural attributes. Each of these elements directly affects the cost of the ACP panel and can change depending on how the client uses it.
The Colors And Its Methodology
Let us further break it down into some individual colors.
1. Red:
Red is the
most dynamic color
for these sheets. Easy to identify by the human eye and is often used in consumer-oriented products.
2. Orange:
Orange color is often associated with positivity. The color
grabs the attention
of the viewer and radiates creative energy. Orange color is also leveraged to market several brands because of its naturally appealing nature.
3. Yellow:
Yellow is mellow. The color
imparts a joyous mood
and provides a general feel of happiness because of its light nature.
4. Blue:
Blue is a sensitive color. This color is a symbol of calmness and thus
gives cool vibes
to the environment. Irrespective of the atmosphere the color radiates its characteristic features.
5. Green:
Relaxation is the alley for this color.
Green is nature
and nature is relaxing. For a restful environment consider opting for the green color.
6. White:
White is the color of contrast and dynamic range. Combining white with other colors can
create a beautiful contras
t and going just white color will impart a soothing nature.
7. Brown:
Brown is a popular option for ACP sheets. The ground is often correlated with the color brown thus the color
imparts earthly vibes
.
Areca is a well-known manufacturer of aluminum composite panels in India, offering a wide selection of high-quality ACP panel options. Discover more about our products by perusing our collection of ACP sheets.
Why You Must Choose Aluminum Composite Panels?
There are many benefits to using aluminum composite panels for construction projects. Some of the most notable benefits include:
ACP sheets are available in several different colors. It is significant to understand and scrutinize your needs to select the right color for your ACP sheets. There are several factors that play a pivotal role in selecting the right ACP sheet color. The above-mentioned pointer and color significance will help you to identify the ideal color for your ACP sheets.
To decide the best ACP sheet color, you must consider your needs and preferences. Choose a color that will complement your building's architecture and make it look its best.
Areca offers a wide range of ACP Sheet in magnificent colors and finishes with eco-friendly material. Our ACP sheets are flat, durable, strong and resistant to UV rays, water, and stains. Visit the about page to learn more about the company's technical expertise, product line, and export terms.