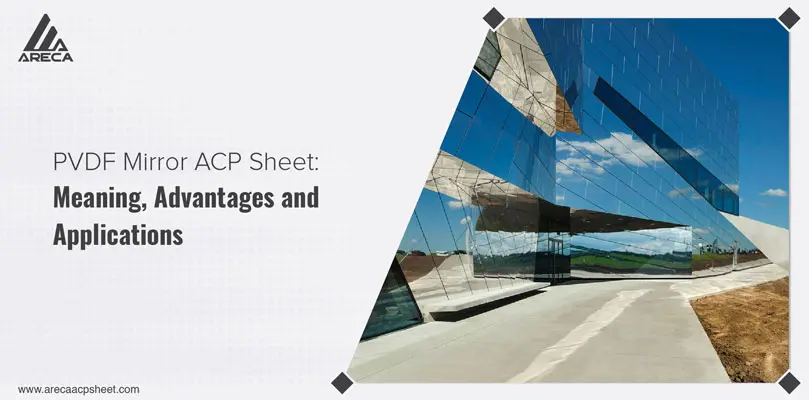 In the current situation, surface treatment should be used to improve the rust and abrasion resistance of mirror ACP sheet cladding. Electrophoresis, anodizing, and electrostatic coating are among the surface treatment options available. However, in recent years, there has been a lot of publicity around the polymer Polyvinylidene Fluoride (PVDF).
Polyvinylidene fluoride is a member of the fluoropolymer series, which is a collection of specialized, adaptable polymeric materials having particular features due to the strong connection between their carbon and fluorine atoms. The polymer is also frequently utilized in various industries such as chemical, electrical, and energy-related activities.In this blog, we have covered what is PVDF coating and what advantages does this coating provide to the mirror ACP sheet. Finally, we will also look at some important applications of this PVDF coated ACP sheet. So let's get started.
What is PVDF Coating?
PVDF is an acronym that stands for Polyvinylidene Fluoride. PVDF is a semicrystalline organic polymer passive component. It offers a unique mix of mechanical or electrical capabilities, maintains high purity requirements, and is resistant to a wide range of substances, including solvents, acids, and hydrocarbons. It is a resin-based liquid coating technique that is applied in manufacturing.
Metal particle dispersion in fluorocarbon coatings has a direct influence on the coating's look. In the chemical structure of the paint, a short fluorine-carbon link is produced, which creates the strongest connection with the hydrogen ion. Fluorocarbon coatings are so distinguished by particular physical and chemical features which make mirror ACP sheets more long-lasting.
What are the Advantages of Using Mirror ACP Sheet with PVDF coating?
There are several important advantages of using PVDF mirror aluminium composite panel.
PVDF mirror ACP sheets are easily installed and have excellent self cleaning quality.
They are highly inert and stable, giving the metal long-term resistance to weathering.
It guarantees long-term durability while requiring little maintenance.
The weathering resistance of PVDF mirror aluminium composite panels are excellent.
In the event of a fire, it produces little smoke and is self-extinguishing.
PVDF mirror ACP panel are also anti-UV resistant.
It is also resistant to acids, solvents, and bases.
Despite the thin coating, they deliver remarkable brightness.
PVDF mirror ACP sheets provide better water resistent compared to other ACP sheets.
Toughness and mechanical strength are also high.
What is the Most Suitable Application of PVDF-Coated Mirror ACP Sheet?
PVDF mirror ACP sheet is frequently used for applications that require an exceptionally durable coating that resists corrosion, chalking, fading, and UV radiation while providing good substrate protection. PVDF mirror ACP panel is particularly well-suited for usage in office buildings, shopping malls, industrial buildings, airports, hotels, bus stops, hospitals, schools, supermarkets, and residential structures. It can also be utilized in the aerospace, architectural coating, and chemical industries.
So these are some of the advantages and applications of PVDF coated mirror ACP sheet. The PVDF market in ACP sheet cladding material is continually expanding. The type of coating you should choose will vary according to individual requirements, but if you need a very robust, ecologically friendly, and long-lasting ACP sheet, a PVDF-coated mirror ACP sheet may be the best option.
Arecamanufactures and exports a wide range of aluminum composite panels for use in the construction of modern-style constructions. Our ACP sheets are environmentally friendly, water-resistant, flat, and UV resistant. Visit our collection to see a broad range of ACP sheets.