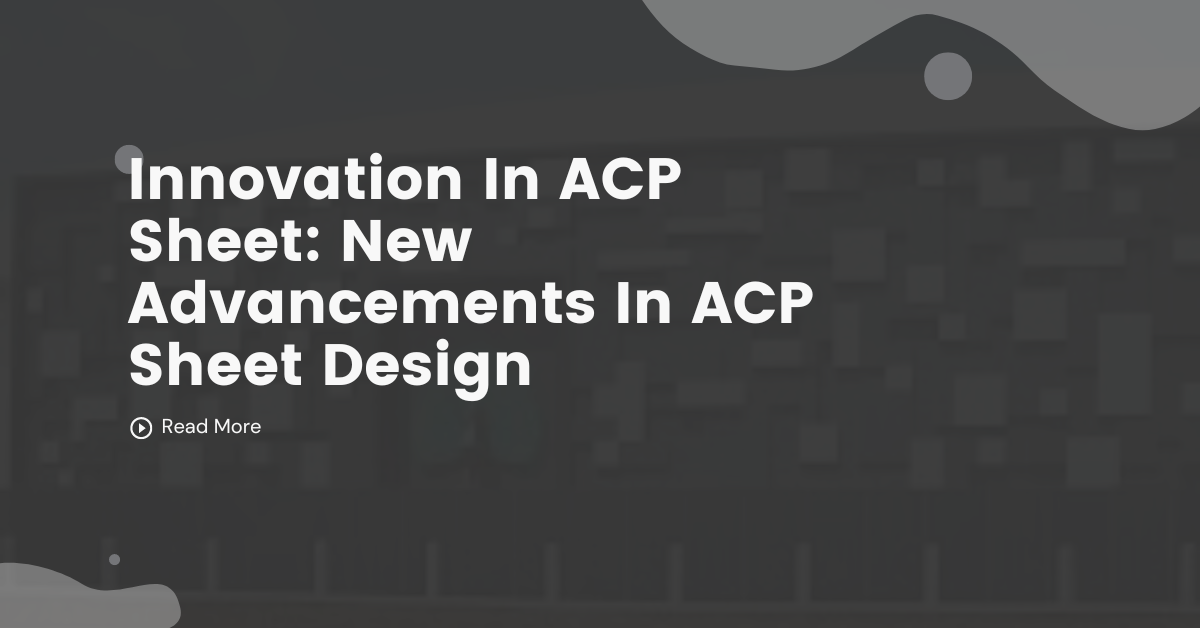 In the last few years, acp sheets have redefined architecture. From towering skyscrapers to elegant interior spaces, ACP sheets have become the go-to choice for architects and designers seeking to elevate their creations to new heights of aesthetic excellence.
The world of architecture is continuously evolving and that's why advancements are also being seen in technology. These innovations are giving rise to numerous design possibilities along with making acp sheets more functional.
Today, through this blog, we will look at these innovations and advancements. Let's get started.
Innovation In ACP Sheet Designs
Aluminum composite panels(ACP) sheets have taken the center page in architectural evolution. They have undergone remarkable advancements that push the boundaries of technology and design.
Brushed ACP Sheet
The innovation of brushed acp sheets is a game changer in the market. The brushed metallic surface adds a beautiful texture as well as provide elegance. Hence it is one of the favorite choices of architects.
Their surface is known to diffuse the light in different directions. Which creates a subtle variation of color and light. This interplay of light and shadow adds visual interest and depth to architectural elements, enhancing the overall appeal of the building.
The brushed surface enhances its functionality. It hides the scratches and fingerprints on the surface. Due to this, there is no problem of visible wear and tear.
They are commonly used for exterior cladding, providing a modern and sophisticated look to commercial buildings, hotels, retail spaces, and residential complexes.
3D ACP Sheets
The 3D Acp Sheet is a revolutionary innovation that is taking creativity in modern architecture to a whole new level. Through its stunning patterns and visual effects, these panels have the power to transform an ordinary building into an architectural marvel.
The magic of 3D ACP sheets lies in their ability to create depth and dimensionality. 3D acp sheets are also available in a variety of patterns, shapes, and color combinations. These designs can be customized to suit the desired aesthetic theme, enabling endless creative possibilities and allowing buildings to become unique works of art.
Apart from its breathtaking designs, it also provides durability and therefore 3D acp sheets are a great choice for interior applications. They can also be used as decorative elements, adding a dynamic and captivating element to the built environment.
Galaxy ACP Sheet
Galaxy acp sheets are an innovative form of Mirror acp sheets that will offer your outer façade a distinctive and appealing appearance. Their exceptionally smooth surface offers building exteriors a seamless impression. They offer a great deal of creative flexibility and can be simply integrated into any architectural project. This is due to the that it is available in a broad variety of color schemes, patterns, and design adaptability.
Along with being beautiful, it is also robust and weather resistant. These acp sheets can withstand wear and tear easily. These sheets, unlike typical materials such as glass or metal, do not require constant cleaning or polishing. Gentle cleaning with a soft cloth is all that is required to keep their luster.
Digital Print ACP Sheets
Digital printing on acp sheets transforms the architectural real into a world of art. The design can be swiftly imprinted on the surface of the sheet utilizing this method. Therefore architects now can intricate patterns, add vibrant colors, and engrave custom graphics to acp sheets to create a stellar look. Starting from With digital printing the design choices are nearly endless, ranging from images and illustrations to abstract compositions and branding components.
Digitally produced acp sheets provide a new depth to the customization possibilities. This allows you to give your projects a more personalized design. The applications for digitally printed ACP sheets are diverse. They are suitable for outside cladding, façades, signs, wayfinding systems, interior walls, ceilings, and other applications.
Anti-bacterial ACP Sheets
In recent times, it is very important to pay attention to hygiene and cleanliness. And it has always been seen that many diseases spread due to building materials. Anti Microbial acp Sheets are one such unique innovation that can prevent this. Antimicrobial Property Acp sheets are a new innovation. It resists the growth of microbes on its surface. It creates a healthier environment as well as prevents cross-contamination.
That's why these panels can promote a healthy lifestyle along with enhancing safety in high-traffic areas. It is important to note that while antibacterial ACP sheets offer enhanced antimicrobial properties, regular cleaning and maintenance are still necessary to ensure optimal hygiene. Routine cleaning practices, using appropriate cleaning agents and methods, will help maintain the effectiveness of the antimicrobial properties over time.
Anti-microbial acp sheets can prove to be an effective building material in contaminated tentative places like hospitals. These sheets are highly durable and easy to clean as well. That's why they will not even need regular maintenance. Therefore these panels bring both functionality and hygiene to architectural projects.
Customizable Options Available
Whether it is a dream house or a dream office, everyone has a personalized choice to shape them. But that level of customization is not possible with common building materials. But with the advanced innovations of acp Sheets, you can give wings to your dreams.
Modern acp sheets provide high-end customization options with endless design variability. Whether it is about patterns or textures, they have many options available. For example, in textures, they have stone look sheets, metal appearance sheets, glass laminates, wood look sheets, etc.
By combining the elements of color, pattern, texture, size, and shape, architects and designers can shape the built environment in truly unique and captivating ways. Therefore these panels empower creative expression, allowing architectural visions to be transformed into tangible, awe-inspiring structures that stand as a testament to innovation and individuality.
Wrap up
Along with the advancement of technology, there are also innovations shining out from the designs and functionality of acp sheets. These innovations are creating a sustainable and beautiful world for us by giving a new identity to modern architecture. Therefore to give a beautiful finish to your dream projects, you must use rap sheets.
About Areca
Areca is one of the prestigious manufacturers of aluminum composite panels(acp) sheets in India. Our products are known for their exquisite quality and design versatility. We promise the best quality to each and every customer of ours as our products reach them only after multiple quality checks. We have a wide range of acp sheet designs with a global network. So have a look at our acp sheet collection today to make your dream project more beautiful.