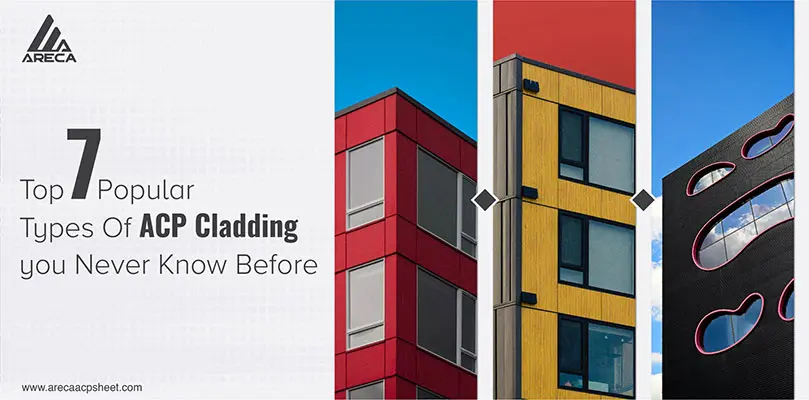 Aluminum Composite Panel, often known as ACP sheets, is quickly becoming the preferred material among architects and urban planners due to a slew of attributes that easily outperform other forms of ACP sheet cladding in terms of usefulness and functionality.
Furthermore, this new era material comes in a variety of colors, hues, finishes, and textures that will enhance indoor and external spaces to meet any design concept and decor. This panel is also lightweight, strong, adaptable, and, most significantly, very customizable.
Let us dive deep into the types of ACP sheets and learn about the top 7 most popular forms of ACP sheet cladding.
What is ACP?
ACP stands for the aluminum composite panel. It is a cladding material created from aluminum foil. It is a modern material utilized for the exteriors, interiors, and signs of architectural projects. ACP sheet cladding is available in thicknesses ranging from 2mm to 5mm.
Aluminum Panels come in a variety of colors and finishes, including wood, marble, rustic, glass, mirror, and more. ACP Sheets give the required variety and character. It can be twisted, folded, and molded into shapes that other materials cannot. ACP sheet cladding is made with extensive quality testing.
7 Popular Types Of ACP Cladding
The seven most common varieties of ACP sheet cladding are listed below.
1.
3mm ACP Sheet Cladding
When it comes to ACP sheet cladding, aluminum composite panels with a thickness of 3mm are undoubtedly the most adaptable. Aluminum Composite Panels have a solid core and two layers of aluminum both above and beneath the core. The 3mm thickness provides longevity, as well as being suitable for both exterior and interior installations.
When space and budget is limited, a 3mm ACP sheet is best option. This 3mm ACP sheet is soundproof, enabling sound from the surroundings to be absorbed. Areca has a wide range of 3mm ACP sheets to fulfill all of your design requirements. It is available in a wide range of colors, from basic to vibrant.
2.
4mm ACP Sheet Cladding
ACP sheets with a thickness of 4mm are suitable for a wide range of applications, including both internal and exterior use. Because of its elasticity and bendability, it may also be sculpted into complicated shapes for the surface of experimental buildings. Furthermore, this ACP sheet cladding is weather-resistant, stain-resistant, and extremely robust. Even after being exposed to sunlight and weather changes, the panels retain their color and shape.
3.
5mm ACP Sheet Cladding
The usefulness of 5mm ACP sheet claddings increases as the thickness increases. Areca 5mm ACP sheet cladding is ideal for external claddings because of its increased thickness and durability. These 5mm ACP sheets are not only resistant to severe temperatures, but they are also water-resistant. This sheet is also resistant to mold, swelling, and corrosion. They are also soundproof, allowing sound to be absorbed from the surroundings.
HPL ACP Cladding is a sheet that combines the qualities of HPL sheet and ACP sheet as it is scratch and chemical resistant like HPL sheet and also durable and flexible like ACP panel. This sheet is available in many finishes, colors and designs. HPL ACP sheet cladding sheet is suitable for both residential and commercial applications.
5.
Fire Resistance ACP Sheet Cladding
To prevent urban fires, FR grade A2+ Aluminum Corrugated Composite Panels are ideal option for cladding. The Fire Retardant ACP sheet has a honeycomb core that actively resists and inhibits the spread of fire. The honeycomb shape significantly reduces the intensity of the fire as well as the heat created by any fire outbreak. The air bubbles in the honeycomb pattern guarantee that the fire is trapped by generating a vacuum between the layers of the ACP Panel or Aluminum Composite Sheet.
Imperium ACP cladding is another excellent sheet for decorating the exterior of your building or home. This ACP sheet cladding is long-lasting, weather-resistant, and stain-resistant. Furthermore, they act as a solid barrier, allowing users to benefit from sound absorption from the outside environment. Imperium ACP panels retain their form and sizes despite changes in weather, making them suitable for all seasons. Furthermore, It is weather-resistant, assuring longevity.
7.
Anti-Bacterial ACP Sheet Cladding
Areca also provides anti-bacterial ACP sheet cladding in various finishes. The anti-bacterial ACP sheets effectively protect you and your family from hazardous bacteria. The ACP sheet's antibacterial and bactericidal coating ensures that any bacteria that come into touch with its surface are killed while also limiting microbial multiplication.
So these are the seven greatest types of ACP sheet cladding for making your corporate building, home, and other structures robust, beautiful, and long-lasting. We hope that this blog has given you a better understanding of the different types of ACP cladding and will assist you in selecting the ideal one for your application.
Areca is one of India's leading producers of aluminum composite panels. We provide a diverse choice of popular ACP sheet cladding with cutting-edge technology to help you bring the beauty of the outside to life. Please contact us for additional information.