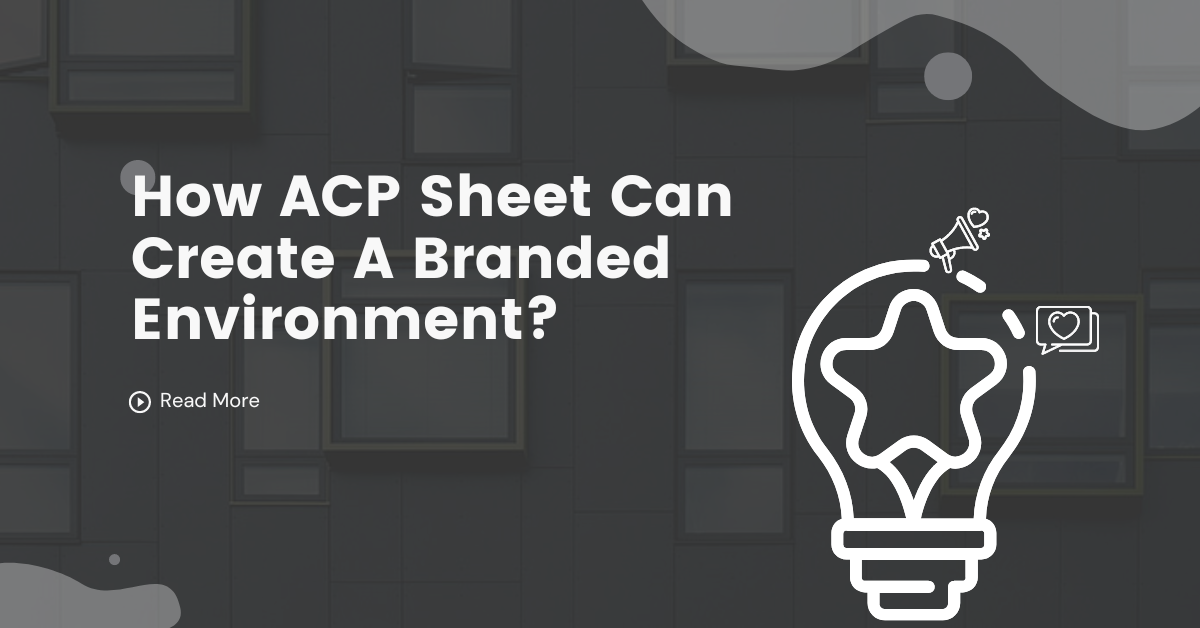 Nowadays the business world becomes more competitive. Therefore, creating a strong brand identity has become more important than ever. A well established brand can help your business differentiate from your competitors and create a unique identity. In recent years acp sheet has set the benchmark for brand value and style in the commercial world. With versatile designs and different acp sheet color schemes, you can create a brand environment like other industrial giants for creating an impact on your audience.
In this blog, we will discuss how ACP sheets can be used to create a branded environment. So let's dive in and discover how it leaves a lasting impression on your customers.
Creating a Visual Identity: How ACP Sheets Can Bring Your Brand to Life in Your Space
ACP sheets are a great choice for creating a branded environment that stands out in the market. Choosing the right design & acp sheet color can be a game-changer for your brand statement. With a wide range of versatility, you can use these sheets in various ways. Let's look at some ideas and set up a stunning brand environment for you.
Attractive Facade Cladding
You can provide a tempting look to your building facade by using acp sheet cladding. The stunning facade cladding differentiates your brand from your competitors and raises your brand value. With a sizzling acp sheet color combination you can design a visually appealing and satisfying exterior for your visitors.
This unique and eye-catching exterior accurately represents your brand identity and values. This can help attract new customers and ultimately boost your business's success. For instance, if you want a glamorous look you can go with a black metallic finish with a monochrome pattern. This design and acp sheet color is no doubt a trendsetter and attract the audience.
Glamorous signage
Most industries make the common mistake they ignore signage during branding. But let you know that is one of the most important aspects to increase your brand visibility and impress customers. ACP sheets can be used to create eye-catching and durable signage. Backlit signage with a bright acp sheet color creates a dynamic look that makes your brand stand out at the night. It can also be used to create directory signage that helps customers navigate your space. Being durable acp sheet is an excellent choice for both indoor and outdoor signage.
A stunning logo
Using ACP sheets you can create stunning logos that represent your brand story. The wide range variety of acp sheet colors allows business owners to create multi-color attractive logos. The use of multiple colors adds depth and interest to a logo and can help it stand out.
ACP sheets can be also illuminated with LED lights to create a dynamic and attention-grabbing logo. This is a great option for businesses who want to create a memorable logo that emerges both day and night. With acp sheet build durable Outdoor logos can be placed on the exterior of your building and add a professional touch.
Eye-catching Interior
ACP sheets are versatile materials that can be used to create stunning interior designs. They can be used for a variety of interior applications such as wall cladding, ceiling, and partitions.
You can create a stunning feature wall with deep acp sheet colors that tells your brand story. It will help you create an energetic atmosphere for your employees and build a strong first impression on your clients. ACP sheets can also be used to create custom partitions that divide a space while adding visual interest and depth. So with acp sheet create interior space that reinforces your brand identity and values.
Design Unique Furniture
ACP sheets can be molded and shaped into a variety of sizzling furniture pieces. You can use different acp sheet colors to create cohesive and professional look items of furniture. ACP sheets can be molded into unique shelf shapes and customized with a range of finishes. They can also be used to create functional and modern cabinets that add storage and visual interest to any interior space.
These are just a few sizzling design ideas for using ACP sheets in furniture design. With their versatility and customizability, ACP sheets can help businesses create unique and modern furniture pieces
In conclusion, ACP sheets can play a crucial role in creating a branded environment for a business or organization. With their versatility and durability, ACP sheets can be used to create a wide range of signage and design elements, including building facades, interior wall cladding, and even custom furniture pieces. By incorporating brand colors, logos, and other visual elements into these design elements, businesses can create a cohesive and memorable environment that reinforces their brand identity.
Why Choose the Areca ACP Sheet?
When it comes to choosing ACP sheets for your branding project, Areca ACP sheets are an excellent option. Our acp sheets are made using high-quality materials and advanced manufacturing techniques. So we ensure that they are both durable and visually stunning. Areca ACP sheets are also highly customizable, allowing businesses to create unique and eye-catching designs.
Therefore they can truly reflect their brand. Additionally, Areaca ACP sheets are backed by a team of experts who can provide guidance and support throughout the design and installation process, making them a reliable and trusted choice for any branding project. Take the first step towards creating a cohesive and impactful brand identity today!