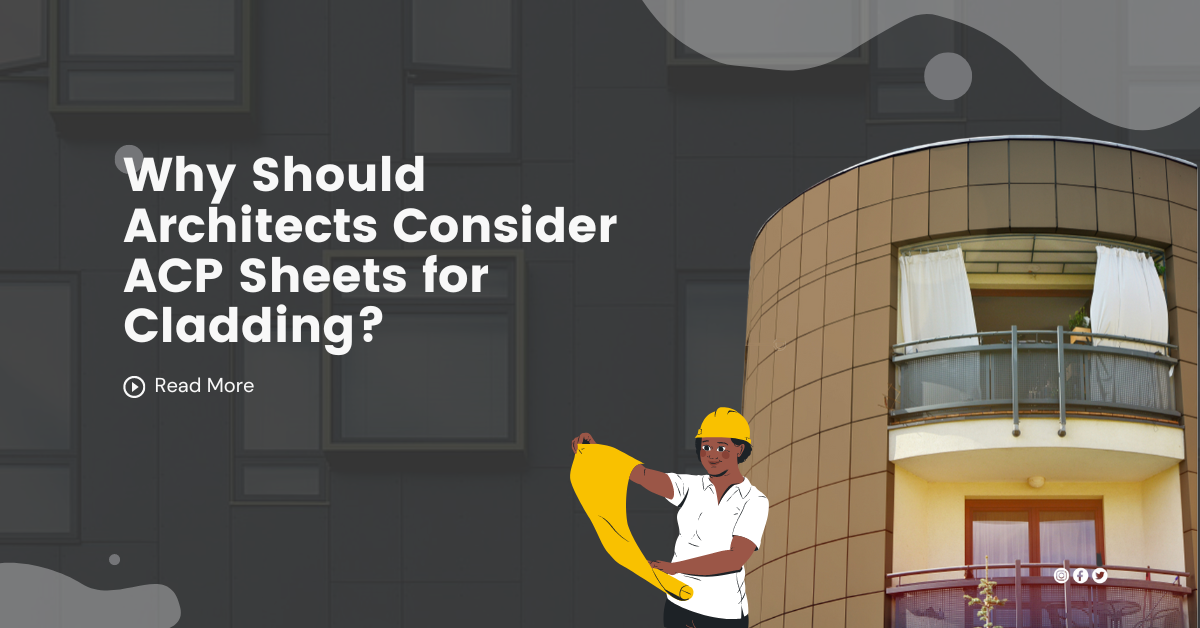 Architects, are you fed up with the old building facade style? Looking for something trendy that can add a stunning appearance to the cladding? Consider Aluminum Composite Panel or acp sheet. These sheets are the future of modern architecture and create versatile options. So that It can help you achieve your design goals. ACP sheet offers a cost-effective and practical solution for creating stunning building cladding. That's why an acp sheet is a good option for constructing pretty cladding. But is it the best option to choose?
In this article, we'll answer this question and explore why an acp sheet should be a top consideration in your following projects. We'll see the benefits of acp sheet that help you build your dream project. Let's dive in!
Beyond Beauty: Why Architects Choose ACP Sheets for Cladding
A. Lightweight and easy to handle
ACP Sheet is a lightweight and easy-to-handle material. This makes it an excellent choice for architects when designing facades. Its lightweight nature guarantees that it does not add extra weight to the building structure. Furthermore, it accelerates and simplifies the installation process. So save both time and money.
ACP sheet is lightweight in nature because of its chemical composition. ACP sheets consist of two aluminum sheets bonded to a non-aluminum core material, such as polyethylene. This unique composition makes ACP sheets not only lightweight but also strong and durable.
The lightweight nature of these sheets makes them easy to transport and install. Moreover, they also require less structural support in comparison to other building materials. Therefore acp sheet is a brilliant option in terms of easy installation and maintenance for architects.
B. Versatile in design and finishes
ACP sheets are known for their versatility in design and finishes. So It can allow architects and designers to achieve a variety of design goals. They can be customized to meet the specific design requirements of a project. It can be cut into different shapes and sizes which allows architects to design customized cladding. This makes them a popular choice for creating unique and eye-catching cladding.
Therefore the versatility of ACP sheets in design and finishes makes them a popular choice for architects.
C. Durable and long-lasting
ACP sheets are sturdy and durable because they are made of two layers of aluminum. Further strength and stability are provided by the polyethylene core. Therefore they are highly resistant to weathering and ensure durability over time. Moreover, the surface of ACP sheets is coated with a protective layer that prevents fading. So it reduces the risk of denting and chipping.
Again it is more secure because of the non-combustible core which prevents the spread of fire. So It limits the damage and potential loss of life due to fire accidents. Therefore the durability and longevity of ACP sheets make them a sustainable option for building design.
D. Weather-resistant and low maintenance
Weather can have a significant impact on building facades over time. Continuous exposure to extreme environments can cause damage to building cladding. Therefore, it is important to choose building materials that are weather-resistant.
ACP sheets are highly resistant to weathering and resist any climatic conditions. From hot summers to cold winters they can withstand extreme temperature variations. It is the protective coating on ACP sheets that makes them resistant to cracking and fading.
The best thing is they require minimal maintenance and are easy to clean. They can last up to 20 years or more with proper installation and maintenance. The weather-resistant and low-maintenance quality of acp sheets makes them a great option for building design and construction.
E.

Environment F

riendly
ACP sheet is a sustainable and eco-friendly option for building facades. As it is a highly recyclable material because it is composed of an aluminum base. Aluminum requires significantly less energy than other materials for recycling. The low maintenance requirements of ACP sheets reduce the need for harsh cleaning chemicals. Therefore contributes to a safe and sustainable future.
The use of ACP sheets can contribute to LEED (Leadership in Energy and Environmental Design) certification. That is a widely recognized symbol of sustainability in building design and construction.
Conclusion
After considering all of these factors, you can understand why architects should adopt acp sheets for their projects. The adoption of ACP sheets can offer architects better design flexibility and high durability.
Furthermore, the minimal maintenance needs and extended lifespan of ACP sheets contribute to construction projects being environmentally friendly and sustainable. Therefore, it is recommended that architects should consider ACP sheets as a viable option for building cladding.
Areca Acp Sheet: Make a Bold Choice
Areca acp sheet is the best option for your building facade. It is because our acp sheets not only brings glamour to your cladding but also our years of experience and high quality standards. It will protect your building from fire and extreme weather conditions and will take care of your safety. So get in touch with us today to give your buildings a beautiful and sleek finish.
Also Read:
Revamp Your Space With The Hottest ACP Sheet Design Ideas Of 2023