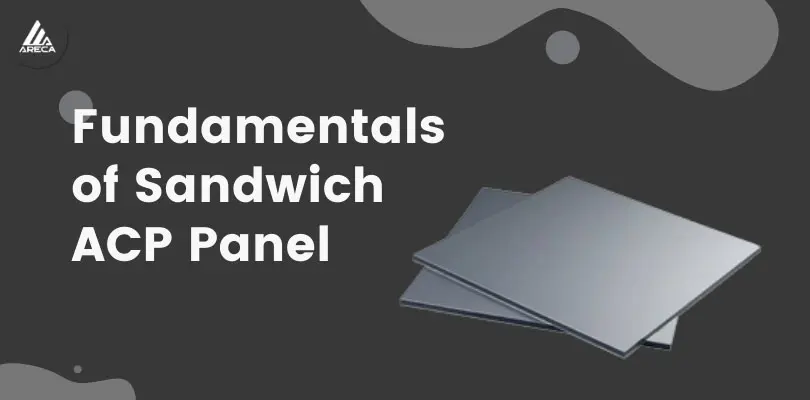 There are several structures in the world that must be light in weight while also being sturdy, such as aircraft. Such structures will necessitate the use of specialized materials or techniques to construct.
ACP (Aluminium Composite Panel), often known as sandwich panel, is one such structure or material. This material is used in the majority of passenger and cargo aircraft, ensuring mechanical performance and lighter weight.
But what exactly is a sandwich ACP panel, what materials is it made of, and what are its benefits? We'll take a quick look at each of these aspects in this blog post.
What Are Sandwich ACP Panel?
Aluminium composite panels (ACPs) are panels that are constructed of an aluminium composite material that consists of a thermoplastic polyethylene core or a fire retardant core sandwiched between thin aluminium sheets. However, it should be noted that polyethylene is not a fire-resistant material. In fact, it catches fire and spreads.
As a result, while purchasing sandwich ACP panels, ensure that the inside material is polyethylene or not to avoid future risks.
ACP is most commonly used for exterior and interior architectural cladding or walls, artificial ceilings, signs, machine coverings, container construction, and other related purposes. These panels are also used in construction projects of type C. For the uninitiated, class C constructions are the least fire-resistant and often consist of one to two-story buildings.
Several studies have revealed that the sandwich ACP panel with polyethylene core quickly catches fire. In fact, several countries, including the United Arab Emirates, have prohibited ACP panels. However, you should be aware that no ACP panel is fireproof; they are simply fire code compliant.
Since aluminium has a low melting point – around 660 ° C, it will melt immediately in the case of a fire. To make aluminium sheets fire-resistant, they are coated with polyvinylidene fluoride (PVDF) or polyester paint.
Let's now take a look at the benefits of sandwich ACP panels.
The Advantages of Sandwich ACP Panel
You should be aware that no other material is as flexible as aluminium composite panel sheets. Moreover, these panels are simple to design and bend, which is difficult with other materials. Additionally, ACP is a highly durable, robust, and strong material that is also lightweight.
Also, sandwich ACP panels are simple and quick to install. It is also worth noting that aluminium is a cost-effective material that comes in multiple colors and textures. In addition to the 40+ fixed ACP sheet colors, you can have them customized to your requirements. In fact, you can have them painted in a wooden texture and marble tone.
Let us now discuss the qualities of ACP. It has UV and chemical resistance, as well as fungal and termite resistance. These characteristics ensure a longer life duration with minimal maintenance. Another significant advantage of ACP is that it is environmentally friendly and totally recyclable.
Not only that, but sandwich ACP panels are highly unbreakable, stain-resistant, and weather resistant.
Let us now explore the applications and uses of sandwich ACP panels.
The Applications of Sandwich ACP Panel
External cladding or facades of buildings are one of the most common uses for ACP. However, sandwich ACP panels are also widely used for signage, canopy, bars and hotels, commercial structures, shop signboard fonts, and so on.
ACP panels are used for interior applications like wall covering, false ceilings, cupboards, wardrobes, modular kitchens, tabletops, column covers, and more, in addition to commercial usage. Moreover, as previously stated, these panels are used in the aircraft industry where mechanical performance and lighter weight are critical.
Now, let's move to the sandwich ACP panel installation. ACP is typically installed through the cladding process. The procedure is relatively straightforward. All you have to do is drill holes in the walls and erect the aluminium structure. Later, ACP is attached or hung on the framework in such a way that the screws are not visible from the outside.
Any gaps between the sheets can be closed using a silicone gasket. In addition, the sandwich ACP panel requires less care and maintenance. You may clean it once a week with a soft cloth and mild, regular detergent.
So that's it for the fundamentals of sandwich ACP panels. We will look at the other aspects of ACP in the following blogs.
Areca is a market leader in the production of high-quality ACP sheets. Along with solid colors, the company manufactures ACP sheets in a range of appealing patterns such as Marble, Wooden, Brush, Mirror, and Galaxy. Visit our about us page to learn more about the company's technical expertise, product line, and export terms.