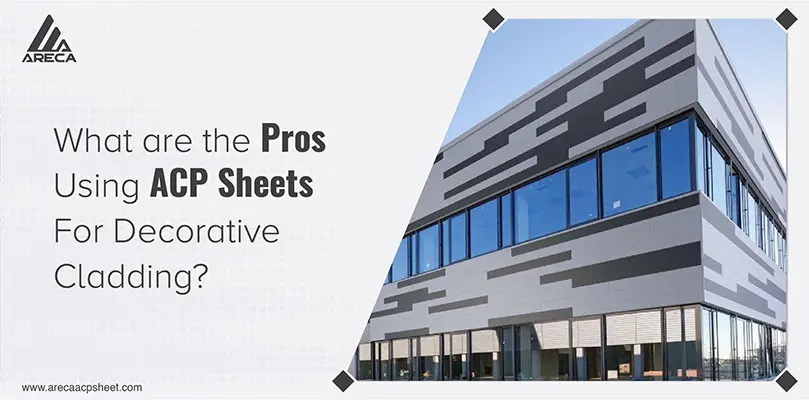 The initial impression lasts forever. You only have one chance to make a great first impression that will last a lifetime. Like everything else, your building or apartment should have a great first impression from the outside.
The ACP sheet is the first name that springs to mind when thinking of the best decorative material for a home or apartment. ACP sheet cladding on house interiors and exteriors not just improves their visual appeal but also protects your buildings from harsh weather.
This blog will discuss why Aluminum Composite Panels are the best decorative cladding. So, let's get started.
How do ACP Sheets Compare to Other Decorative Materials?
Fiber laminates, glazed tiles, and natural stones are among the materials used for decorative cladding. But nowadays when it comes to decorating the interior or exterior of your building, the most frequent name is the ACP sheet.
Decorative ACP sheet cladding are waterproof, stain-resistant, and highly durable. ACP panels are often more easily adaptable than other decorative claddings, making them more user-friendly. The sheets keep their color, form, and size even after being exposed to sunshine and climate changes, making them more suitable for all periods. They are also soundproof, which prevents noise coming from the surrounding environment.
Aluminum Composite Sheets outperform every materials in every possible way. Let's see in more detail how?
5 Reasons why ACP Sheets are the Best Decorative Cladding Material?
The following are some of the reasons why ACP sheets are most preferable as a decorative cladding material:
When compared to materials such as wood, steel, or concrete, the expense of maintaining an ACP sheet is negligible. It is not only inexpensive, but it is also simple to maintain. Aluminum Composite Panels do not require frequent washing and the cleaning method is simple. A quick wipe with a wet or dry cloth is sufficient. It will clean the dirt or dust off its surface. Therefore instead of purchasing wooden furniture, you can use Wooden Texture ACP sheets for decorative purposes and household furnishings to make your interior space more appealing.
Aluminum Composite Panels are the most durable material for wall cladding as it can be cut, bent, drilled, and perforated in numerous forms. Its material is quite authentic and standard making the aluminum composite panel unbreakable, stain-free, and scratch-resistant. Therefore, these sheets are highly useful for office and commercial building ceilings and furnishings.
ACP sheets are weather and climate-resistant, so they can be simply installed in areas where rain and sunlight cause considerable damage to your spaces. These sheets are also termite-resistant, which protects your home's furniture and electrical gadgets. They are also temperature resistant, making them appropriate for any weather situation.
4.
Available in Different Thicknesses
Aluminum Composite Panels have excellent strength and come in a variety of thicknesses. Areca offers aluminum composite panels in thicknesses ranging from 2mm to 5mm, making them appropriate for any building. Each thickness is used for a specific use, such as 4-5 mm thickness for office partitions and 2-3 mm for wall decoration. Therefore, you can also customize the thickness.
5.
Diverse Finishes and Colors
Aluminum Composite Panels come in a broad range of colors, finishes, and sizes, making them perfect cladding materials. Mirror ACP sheets,Glossy ACP sheets ,Metallic ACP sheets and many more cladding options are available. All of these sheets provide a tremendous deal of personalization flexibility. These sheets are also ideal for exterior and interior walls due to qualitative characteristics such as weather resistance, UV resistance, and others.
These are the top 5 reasons why ACP sheet cladding is the best decorative cladding material. All these features make ACP panels the greatest decorative cladding material for building interiors and exteriors.
So, if you want to improve the looks of your building using Aluminum Composite Panels, we recommend purchasing them from a top ACP panels manufacturer in India. Our blog How To Choose Best ACP Sheet Manufacturer can help you to choose aluminum composite panel manufacturers.
Areca is a well-known aluminum composite panel manufacturers in India, with a diverse range of high-quality ACP panels solutions. Explore our ACP sheet collection to learn more about our products.