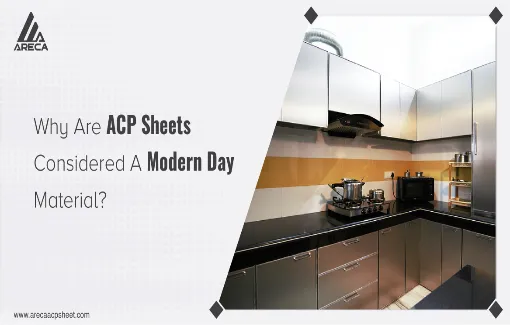 ACP, an abbreviated form of aluminium composite panels, has caught the limelight of modern-day architecture and the construction sector. Ever since the dawn of civilization, humans have been in a constant search for durable and visually appealing architecture. Every civilization in history has built monuments, some for the display of power and some to carry forward the hierarchy.
To achieve such monumental accomplishments, we have transformed our ways of construction several times. Starting from bricks to slabs and now to the future of construction and architecture, ACP sheets. Aluminium composite panel sheets are a layering of two thin coated aluminium sheets that are nowadays used for interiors, facades (front elevation), modular kitchens, etc.
What Are ACP Sheets And Their Modern-Day Aspect?
Aluminum Composite Panel sheets are also referred to as sandwich sheets because they comprise aluminium sheets that layer close to a polyethylene care/sheet. Aluminium is a metal and polyethylene is a plastic, thus an ACP panel provides the architecture best of both worlds. The 2 core materials used in the manufacturing of ACP sheets are sandwiched together to give exceptional durability paired with beautiful aesthetics. Due to its features, they have taken the market by storm.
Architects have started incorporating ACP sheets because of their long-lasting nature and versatility. ACP manufacturers offer a plethora of choices for aluminium composite panels that attract the architecture to leverage these choices and create magnificently facades in IT parks and shopping centres. For commercial places, ACP proves to be one of the biggest boons as they offer state-of-the-art performance with no compromise in customization and aesthetics.
The chronology of ACP panel manufacturers started in Dubai which then commuted to Singapore and now India embarks on leveraging the same potential. Indian ACP manufacturers observe a surge in demand as commercial projects increase in number. One such example is Areca ACP sheets manufacturers, we have seized the opportunity and become the top ACP sheet manufacturer in India.
Features and Applications of ACP Sheets
As these sheets are made by layering aluminium and polyethylene, they possess several qualities of both materials. In combination, they prove to be the future of facades, interiors, and modular kitchens. Here is a breakdown of features:
Durability
These sheets are more durable and long-lasting than any other materials. Aluminium is a lightweight metal that is anti-corrosive in nature. Thus, ACP panel sheets are ideal for commercial buildings.
Aesthetics
These sheets offer a clean and smooth look. One of the prime reasons for being a popular choice in the architecture world is their aesthetics.
Easy installation
The aluminium composite panel is built with lightweight materials. So, they do not require much work to install. Its installation process is simple, quick and easy.
Cost-effective
Both core materials are readily available in the market. As abundance is inversely proportional to cost, ACP sheet is relatively cheaper than other materials.
Recyclable
As we move towards an eco-friendly planet, this quality is of prime importance. Both materials including ACP are recyclable and reusable. So ACP panels can be called eco-friendly material.
Based on the above features, the applications of ACP sheets are as follows:
Excellent choice for building facades (front elevations) for shopping centres and IT parks.
Offer great versatility for various commercial buildings and allow significant levels of customization.
ACP panel sheets are used in modular kitchens to give a smooth and clean look. Additionally, their water-resistant qualities make them long-lasting.
Used as decoration for concept homes and preferred choice for modern architecture.
ACP panels are the modern-day choice for construction and architecture. The sheets are made up of 2 core materials aluminium, a lightweight metal, and polyethylene plastic. The combination of these two delivers exceptional qualities to ACP sheets. These qualities are leveraged by architecture to create aesthetically pleasing facades, interiors, and other modular concepts. Leading ACP manufacturers such as Areca ACP sheets manufacturers are recognized on a global scale as the demand rises in countries like the United States of America. The above-mentioned features justify the increased demand for ACP panels for modern-day applications.
Areca ACP sheets manufacturers are on top of the list of ACP manufacturers in India. We manufacture our sheets in India but are recognized on a global scale due to exports to countries like the USA. We manufacture ACP for interior as well as exterior uses and offer an exquisite collection of aesthetic-looking ACP sheets. We leverage our accumulated experience to deliver high-quality aluminium composite panels with several designs to choose from.