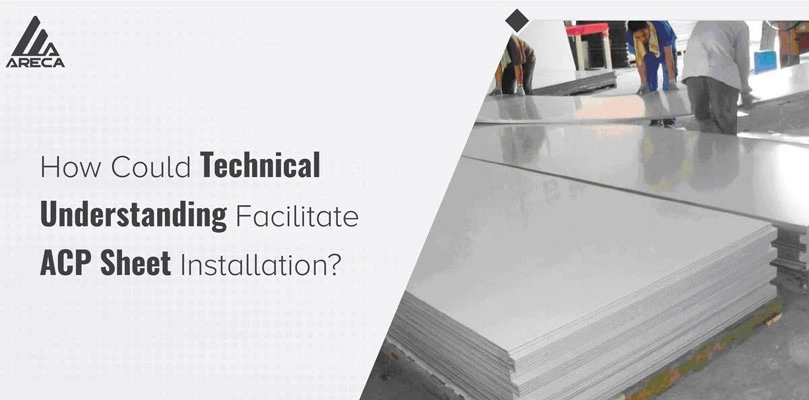 The manufacturing efficiency of aluminum composite panels is incredibly robust, and structural features are evident, whether aesthetic or useful, as evidenced by their appeal. Aluminum Composite Panels are sandwiched panels having a polyethylene core between layers of ACP sheet. It is utilized on both the inside and outside of buildings.
Due to their ease of installation nearly anywhere, they have a wide range of uses. Fabricators can readily clad ACP sheets on every surface because of their excellent durability, stiffness, and adaptability. However, a lot of people are not aware of which things to consider before installing aluminum composite panels.
Because of this, we have created a professional guide to lead you through the installation of ACP panels and explain what possessing technical expertise may help.
How ACP Sheets Are Installed?
Here are a few things that everybody should prepare before ACP sheet installation.
Measuring the panel before installation is likely the first and most crucial step in ACP sheet installation. Since it has a significant influence on other processes, accurate measurement is essential. A minor error in this stage might destroy all of your hard work in the subsequent phases. Prior to construction, examine the horizontal and vertical joints, take measurements, and make necessary modifications to reduce installation error for aluminum composite panels.
After accurately measuring the dimensions of the ACP sheet, your supplier may fabricate the panels. Fabrication requires a variety of steps, equipment, and professional help. Fabricators can begin shaping panels by cutting, bending, folding, or riveting them.
An additional consideration to make before beginning ACP sheet installation is to build a weather resistance barrier on the specific application to guarantee that panel does not spill any moisture and safeguard the structure. In order to prevent water leakage from the panels, a top-notch primer is sprayed onto the plywood during this phase, and the weather barrier is then put in place.
After everything is finished, a mounting method is used to place the ACP sheet in a straight line. The emphasis given to corners and specifically shaped parts, for example, will affect the order.
Aluminum Composite Panels must be installed and secured with screws or other fittings as the last step. After installation, it's typical for there to be a space between both the panels. Installers of ACP panels commonly cover any gaps with matching silicon strips. Shims and clips are used as the last step to level the panels and secure them
Why is it Crucial to Install ACP Cladding Properly?
It is currently required for modern structures to use aluminum composite panels, or ACPs, as their cladding material. ACP sheet cladding installation and manufacture are challenging tasks. When installing ACP panels, it's essential to consider the structure's height and the weather. A few requirements for the procedure to be successful include equipment knowledge, stringent timelines, and excellent craftsmanship.
The ACP sheet might become quite unattractive and expensive in the future if it is not put correctly. Additionally, if it doesn't fit well guided, there is a potential it may be dropped, which increases the risk of accidents.
How Can Technical Knowledge Assist In The Installation Of ACP Sheets?
The ACP sheet looks great and lasts a long time if it is properly installed. To achieve and sustain efficiency, ACP panels' thicknesses, shade, grade, and framework should be carefully chosen in accordance with the load imposed.

Precise measurements make it easier to choose the right grade and thickness for a multitude of activities. For ACP sheet cladding, accurate wind speed calculations are necessary to estimate the facade's durability

The ACP panels must be weatherproofed to stop the thermal movement brought on by temperature changes. If not, the fasteners will lose strength to an undesirable degree and the ACP panels will bend.
With trendy settings decorated with contemporary materials, such as Aluminum Composite Panels, elevate the beauty of your property. When paired with both the required technical understanding to select the proper sort of ACP sheets with the uniform depth and grade, the installation process of these boards has indeed been made simple. However, this blog has provided all the technical details on the ACP sheet installation method.
Areca manufactures and distributes a variety of aluminum composite panels that are used to create contemporary aesthetic structures. Our ACP sheets are flat, UV resistant, water resistant, and ecologically safe. To view a wide selection of ACP sheets, visit our collection.