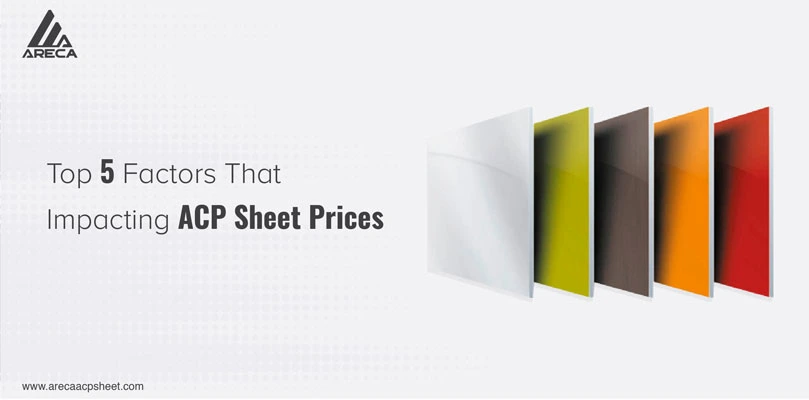 It might be difficult to choose the best building material now, there are so many choices available. Many customers base their materials on their available budget. Getting premium features at a competitive price, though, is more difficult. However, aluminum composite panels (ACP Sheet) have helped us to better control the problem. In general, a number of variables affect how much aluminum composite panels cost.
A relatively affordable material, the ACP sheet panel is regarded as being cost-effective. The superiority of these panels makes the ACP panel pricing more intriguing. Having these attributes at a reasonable price may seem unachievable to some people.
We'll discuss every factor that affects the cost of ACP sheets in this article.
Top 5 Factors That Impact ACP Sheet Prices
Here are a few elements that affect the cost of an ACP sheet:
1.
Cost of Raw Material And Thickness
Aluminium and polyethylene polymers are used to make the core of ACP sheet panels. The panels' cost is mostly affected by their plastic core, FR core and aluminum shell. The needed thickness of the aluminum sheets affects the pricing of ACP sheets. The quality of the raw materials used, such as glue, primer, etc., also affects how much an ACP sheet costs. The fireproof ACP typically has a white core, however, some businesses substitute white polymers made with immoral intentions for the original core.
2.
Cost of Surface Coating & Color
The surface modification of aluminum composite panels is another element that affects the pricing of ACP sheets. Prices are influenced by a variety of surface coatings, including protective film, PVDF fluorocarbon, roller coating, etc. An ACP sheet that has received superior surface treatment is more costly. However, it also considerably raises the sheet's quality. The price of the ACP sheet is also impacted by the color variance. Glossy color-finished aluminum composite panels are more expensive than ones with a plain finish. Prices vary for the various finish and color coatings of the ACP sheet.
Marketing is one of the significant aspects that might impact the price of the ACP sheet. The pricing of ACP panels includes, among other things, coverage for marketing costs. The cost of ACP sheets increases with the amount of funding ACP panel makers have. However, with aggressive marketing campaigns, producers might anticipate a large volume of bulk orders, which could drive down the cost of ACP panels.
Another critical consideration is labor expenses. Paying workers a sufficient wage is essential if they are to be effective. Some workers directly influence how managers are hired and paid. Other employees, however, who have not been directly implicated, cannot be removed due to the expense of their travels. As a result, the cost of aluminum composite panels is increased by several forms of charges. Due to the cold or snowy days of a certain season, such as winter, the compensation of a truck driver may fluctuate. The cost of an ACP sheet is susceptible to everything.
5.
Cost Of Transportation
The last but not least element that affects the price of an ACP sheet can be the cost of transportation. The cost of transportation does not have a set price and may differ from provider to provider. Even some businesses could provide free delivery services. Make sure by speaking with your provider and learning more about this problem. Price increases as distance increases. Because of this, it is important to consider how the project's location will affect labor rates, transportation expenses, and taxes.
These were some of the elements that affect ACP sheet pricing. Different core materials make up aluminum composite panels, which can come in a range of shapes, colors, and other aesthetic and structural attributes. Each of these elements directly affects the cost of the ACP panel and can change depending on how the client uses it.
Areca is a well-known manufacturer of aluminum composite panels in India, offering a wide selection of high-quality ACP panel options. Discover more about our products by perusing our collection of ACP sheets.