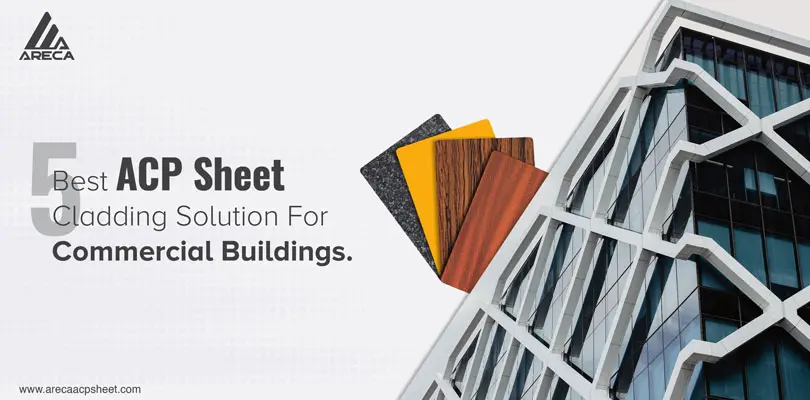 The essential thing for every construction is safety and durability, which can be found in the ACP sheet. ACP sheets cladding is the latest, popular and modern exterior architecture for buildings.
Many of the features like exceptional durability, great thickness, corrosion resistance, non-combustible, and others make them ideal and preferable for buildings, offices, and other construction.
Here are the 5 best ACP sheet cladding solutions which you can use in commercial buildings.
5 Popular ACP Sheet Cladding For Commercial Building Exterior
1. Mirror ACP Sheet Cladding:
Last few years, the mirror ACP sheet has been in high demand because of its dazzling and sleek look which makes your exterior bright as a mirror. The most common application of this sheet is the front wall of the building.
The material which is used in this sheet is highly pressurized mirror-like paint such as PE and PVDF, which gives sturdiness and an awesome look with two wonderful colors- Golden and Silver.
2. Metallic ACP Sheet Cladding:
When it comes to the exterior cladding, it must be protected against the weather and requires less maintenance. A metallic ACP sheet cladding is becoming a popular choice for commercial business owners because it gives high durability and does not get damaged easily.
As per the versatility of this sheet, you can use it for some specific portion to give an eye-catchy and smooth look. This cladding solution is recyclable and helps the sustainability of the environment.
3. Glossy ACP Sheet Cladding :
The glossy ACP sheet is extremely used in wall cladding, roof edging, and shop fronts. One of the biggest advantages of using it in the building is that it protects against UV radiation and it is excellent fire-resistant.
This cladding solution looks more unique and extraordinary; it brings a bright visual feeling with white, black, and red colors. You should choose one color for the whole building but it is suggested that the combination of white and black creates a monochrome look on your exterior wall.
4. Solid & Corporate Colors ACP Sheet Cladding:
Mostly the solid color ACP sheet can be seen on wallboard and advertising signboards. Bout the sheets are available in colors suitable for corporate sector buildings.
It is lightweight, has a very smooth and antibacterial surface. Also resistant to heat and atmospheric perils, strong stain-resistant. This ACP sheet is hassle-free hence can be used in dust-proofing applications as well.
5. Wooden Texture ACP Sheet Cladding :
The wooden ACP sheet is a hard and sturdy cladding material that is highly used in modern architecture. It protects against UV radiation and other environmental exposures. This cladding is mostly used as an exterior of offices, administrative buildings, banks, shopping malls, and others.
Wooden cladding is evergreen as like nature for decades. The wooden texture ACP sheet is available in a wide variety of colors and textures which adds exceptional charm and beauty to your exterior wall.
So these are the 5 best ACP sheet cladding solutions that make your corporate building and other places durable, attractive and long-lasting.
Read More: 7 Benefits Of Using ACP Sheet Cladding That You Must Know.
Areca is one of the leading manufacturers of aluminum composite panels in India. We offer a wide range of popular ACP sheet cladding with the latest technology that helps you bring the aesthetics exterior. Enquire us for more details.