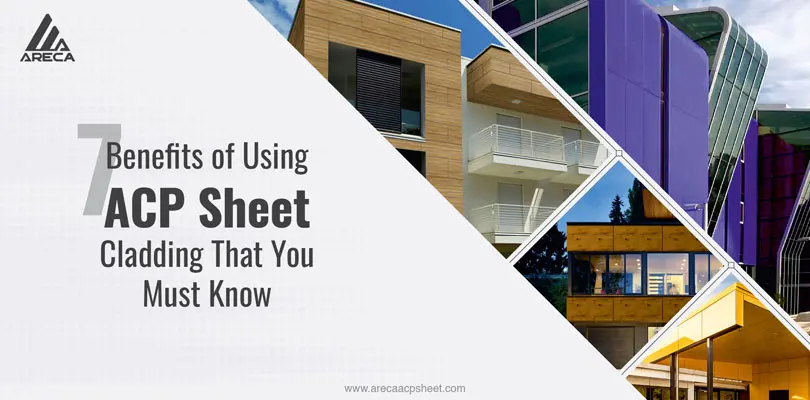 In the modern era, the ACP sheet is an excellent alternative for construction material which is also known as aluminum composite panel or Sandwich panel. ACP sheet is made of two aluminum sheets with a thermoplastic core that holds them together and is made of polythene.
By providing high tensile strength and a wide range of tolerance, these Aluminum Panels are perfect for interior and exterior applications. This panel is also lightweight, robust, flexible, and most importantly it is very customizable.
This versatile ACP Sheet Cladding has various advantages, let's discuss a few among them in detail.
Benefits of ACP Sheet Cladding
1. High Durability:
An aluminum composite panel is the most durable material for wall cladding. The material used in it is very reliable, standard, and simple which makes the aluminum panel unbreakable, stain and scratch-resistant.
Because of their weather-resistant ability makes them is ideal for all seasons. Also, this ACP Sheet Cladding maintains its shape, size, and color approx 10 to 15 years and more.
2. Safe to Use:
Aluminum composite panels are totally safe to use in commercial, residential, and other places because this panel is composed of inorganic minerals which are fire-resistant naturally.
This inorganic material ensures that the sheet never influences fire and does not give heat which can damage the structure.
3. Provide Insulation:
The Aluminum composite panel provides a water-resistant surface and gives superior flatness as never you have seen. Even the sunlight does not harm their color because this sheet gives UV-resistant surface.
The thermal resistant property of this Aluminum panel makes them perfectly suitable for exterior and cladding material which provides the ability to resist heat.
4. Trouble-free Maintenance:
ACP sheet cladding is very easy to install and has low maintenance with long life than any other material. You just need a cloth to wipe and remove the dirt and dust.
Aluminum composite panel maintain their color formation and texture with extreme adaptability.
5. Aesthetic look with diverse finishes and colors:
The aluminum panel gives an aesthetic look that suits your workplace, home, and other places. Even these sheets are preferable for exterior and interior walls by their qualitative features such as weather resistance, UV resistance, and more.
This ACP sheet is available in various finishes like Marble, Rustic, Metalic, wooden, Glossy, and colors like White, Black, Off-white, Choco Brown, Blue, and other colors.
6. Recyclable and Environment-friendly:
The ACP sheet cladding is completely recyclable due to the aluminum metal as a core material. ACP sheet can be made again in the new shape by melting the old panels. Because of this, it does not accumulate as a harmful waste like plastic. Also, the core of this sheet is also recyclable.
So, using this durable aluminum composite panel is beneficial for both the environment and us as compared to other materials.
7. Available in Different Thicknesses:
Aluminum panels have great and superior flatness and are available in different thicknesses. At Areca, we have ACP sheets available in thicknesses from 2mm to 5mm which makes them suitable for every construction. Because of this, you also get customization in the price.
These are the top 7 ACP sheet cladding benefits that make the aluminum composite panels an ideal construction material. Rather than these all benefits, the Aluminum Panels has various advantages which makes them perfect for exterior and interior walls.
To see more advantages of Aluminum composite panel, check our blog: How Does Aluminium Composite Panel Add Strength To The Structure?
Areca offers a wide range of ACP Sheet cladding in magnificent colors and finishes with eco-friendly material. Visit the website to learn more about the company's technical expertise, product line, and export terms.