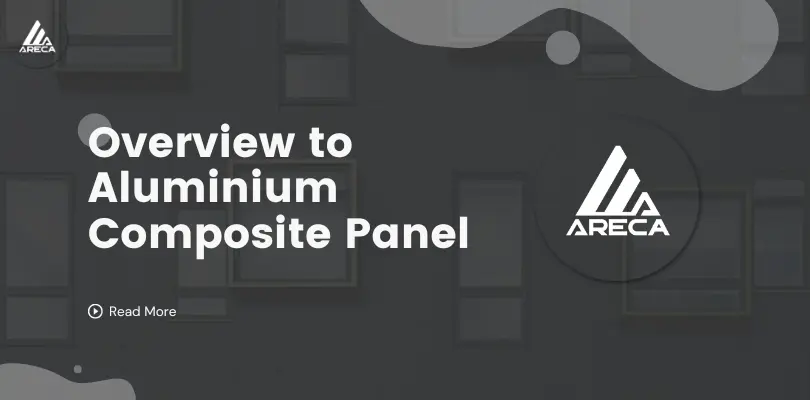 The use of aluminium composite panels can be traced back decades. However, a tragic incident in 2017 - the Grenfell Tower fire in London — drew worldwide attention to this product. The old-style aluminium composite material used on the building's front was largely responsible for the fire's rapid spread.
This incident not only made the ACP sheet popular but also raised questions about its usability and safety. Nevertheless, following that incident, a number of measures were taken to lessen the risk associated with combustible cladding.
This blog will provide you with a basic understanding of what is aluminium composite panel, what ACP qualities are, what ACP applications are, and what types of ACP sheets are available. Let's start with a quick overview of the ACP sheet.
What Is an Aluminium Composite Panel (ACP)?
Aluminium composite panel, often known as ACP sheet, is a sandwich panel made up of three layers: aluminium sheet, FR Core, and aluminium sheet. In addition to these three primary layers, there are multiple more films and layers, such as protective film, paint coating, and adhesive layers, to name a few. All of these substances work together to make ACP an ideal robust building material that gives incredible strength to the structure.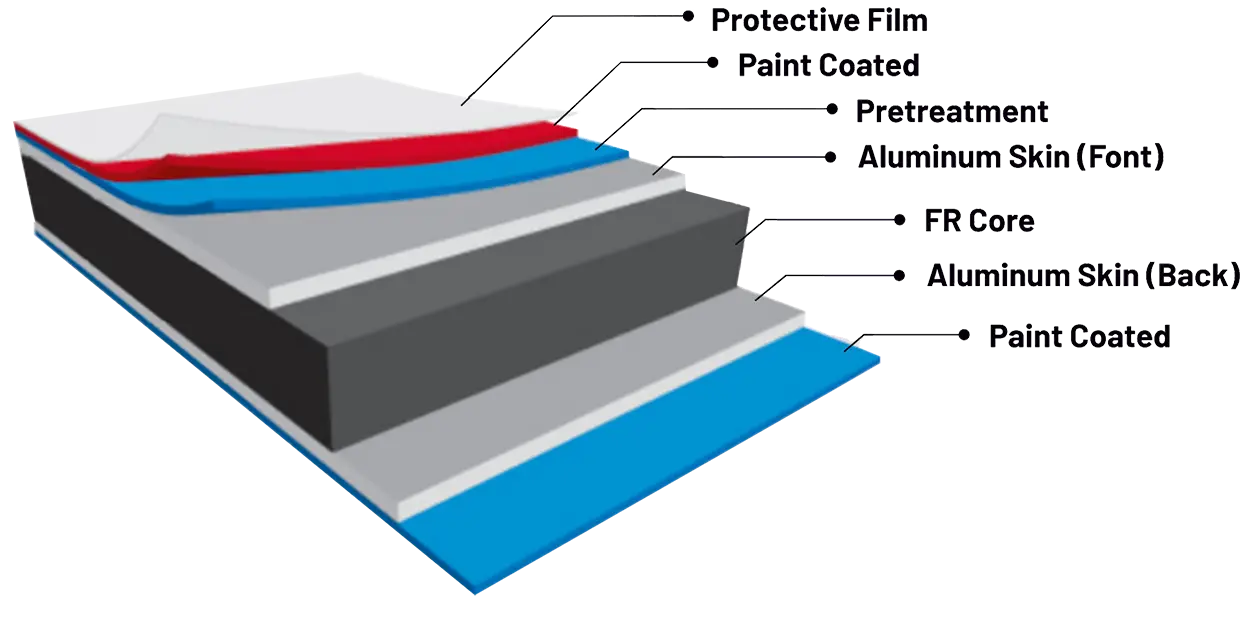 Furthermore, the ACP sheet's stunning multiple finishes and surfaces make it suitable for both interior and exterior applications. Interior ACP sheets, for example, can be used for interior walls, interior decoration, fall ceiling, wall panel, kitchen cabinet, modular kitchen, flash doors, partitions, and so on.
Likewise, exterior ACP sheets can be used for a variety of applications such as commercial construction, beam cover partitions, signboards, multistory apartments, canopies, elevators, fake ceilings, spandrel panels, and display units, among others.
Moreover, these panels can be further classified based on their surface and application, such as partition panels, marble ACP sheets, mirror ACP sheets, and wooden ACP sheets, to name a few. In addition to interior and exterior aluminium composite panels, digital ACP sheets are available too. We will learn more about this type later in the blog.
Now, let's move on to the next section to learn about the exceptional properties of ACP sheets or the qualities that make ACP sheets such popular construction material.
What Are The ACP Sheet Properties?
Among the most significant qualities or characteristics of ACP sheets are their lightweight composition, good strength-to-weight ratio, weather resistance, shock resistance, vibration absorption, environmental friendliness, fire resistance, termite resistance, and ease of installation.
Because of their lightweight, Aluminium composite panels are ideal for multi-story constructions. Moreover, the sheets' outstanding flexibility allows them to bend to a great degree, enabling you to construct the desired shape. Additionally, its high resistance to weather makes it perfect for exterior applications, particularlyfaçade cladding.
Also, the eco-friendly character of aluminium composite panels makes the sheets a preferred alternative among designers that prioritize the environment over other factors. In addition, the sheets are recyclable and easily repairable if they are damaged.
Overall, the remarkable features and strength of ACP sheets make them a popular and favored construction solution. In the following section, we'll look at the various types of aluminium composite panels.
Types of Aluminium Composite Panels
ACP sheets are classified into three types: interior ACP sheets, exterior ACP sheets, and digital ACP sheets. Moreover, when you buy aluminium composite panels from a top ACP sheet manufacturer like Areca, you gain access to its extensive range of ACP Sheets in multiple finishes and colors. Let's take a quick glance at each of the collections.
Interior ACP Sheet:
Areca's interior sheet collection is divided into partition sandwich panels, marble interior ACP sheets, and wooden interior ACP sheets. In addition, these products house a range of other ACP sheets in diverse patterns and colors. Moreover, these panels come in a multitude of sizes, including 220mm x 24400mm, 1220mm x 3050mm, and 220mm x 3660mm, with thicknesses ranging from 2mm to 6mm.
Exterior ACP Sheet:
Areca's exterior collection includes 9 distinct exterior Aluminium composite panel categories: Marble, Rustic, Mirror, Brush, Wooden, Metallic, Glossy, Galaxy, and Solid. Again, each of these categories contains several different products in various patterns. Additionally, like interior ACP sheets, exterior ACP sheets are available in various widths and thicknesses.
Digital ACP Sheet:
Areca's digital sandwich panel collection includes over 50 stunning ACP sheet designs, allowing architects and homeowners to add a creative touch to their spaces. The collection has nearly every pattern imaginable, including floral patterns, mosaic designs, artwork, and abstract motifs.
These are the three primary collections offered by Areca. Visit our collection section to learn more about our complete product line. Let us now proceed to the final section of this article to learn about the various applications of ACP sheets.
Applications of ACP Sheet
The ACP sheets have numerous applications in both commercial and residential settings. These aluminium composite panels can be employed practically anywhere, from façade cladding to signage to dividers. The outstanding properties of these sheets allow them to be used for a wide range of applications.
Some of the most well-known applications of ACP sheets Beam Cover Partitions, Commercial Constructions, Multi-storey Apartments, Curtain Wall, Façade Cladding, Canopies, Elevators, Signboards, Kitchen Units, Display Units, Spandrel Panels, False Ceiling, etc.
However, it is important to highlight that, in addition to their advantages; ACP sheets are a desired and popular building alternative due to their ease of installation.
Moreover, when you buy ACP sheets from Areca, you have the option of having them customized. That is, you can have the sheets customized based on your unique requirements. To get a customized Aluminium composite panel, simply contact our sales team and submit your specifications at [email protected].
Summing Up: Areca is a top ACP sheet manufacturer in India, with a reputation for high-quality products and a diverse range of ACP sheet solutions. The company produces and supplies an exquisite range of aluminium composite panels, including interior ACP sheets, exterior ACP sheets, and digital ACP sheets. To discover more about our products and policies, please contact us.