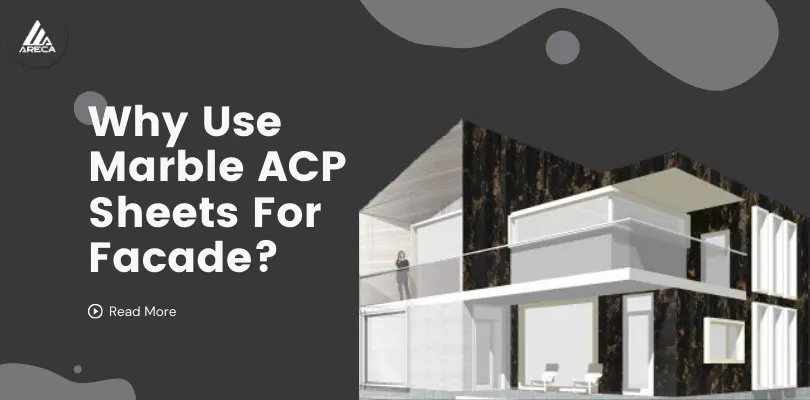 Without a doubt, ACP sheet, also known as aluminium composite panels or sandwich panels, is one of the best building solutions for facades or exterior surfaces. These panels not only add significant strength to the overall structure, but they also have a number of other advantages, such as fire resistance, a smooth, ripple-free surface, moisture resistance, corrosion resistance, and lightweight.
In addition to these remarkable qualities, ACP sheets' diverse surface and finish options, including marble ACP sheets, Mirror ACP sheets, Wooden ACP sheets, solid color ACP sheets, Metallic ACP sheets, Brush ACP sheets, Rustics ACP sheets, and Glossy Sheets, among others, also contribute to its popularity.
Thanks to our broad range of ACP sheets, customers can ultimately select the ideal finish or acp sheet color they have fantasized about or perfectly complement their space theme. Although all of these ACP patterns or surfaces are suitable for facade, we will look at why the Marble ACP sheet is the best option.
We'll examine their advantages in terms of both looks and physical properties. Let's get started right away.
6 Reasons to Choose Marble ACP Sheet for Exterior Surface
The 6 primary elements or properties that explain why marble ACP sheets should be used for facade and other
exterior applications
are listed below. This includes its low cost, durability, fire resistance, moisture resistance, and ease of installation.
Let's take a look at each of these qualities in detail.
1. Affordable Building Solution:
The first and most important reason to choose a marble ACP sheet is its low cost. Marble sandwich panels are more cost-effective than other facade solutions such as concrete, wood, tile, brick, ceramic, timber, coating, stone, and wood-plastic composite. The typical marble ACP sheet costs between 130 and 150 INR per square foot.
Moreover, these sheets will require less maintenance and repair. Moreover, if you buy a Marble ACP sheet for exterior surface from a reputable ACP sheet manufacturer such as Areca, you will get a 10-year warranty. This means that even if the sheet needs any maintenance, it won't cost you anything. As a result, affordability is one of the most significant factors when choosing ACP sheets for a facade.
2. Looks Fantastic!:
Another reason to buy marble ACP sheets is its stunning appearance! Marble aluminium composite panels, as the name implies, have the appearance of natural marble. However, since original marble is not a viable option for a facade and is quite expensive, we can use sandwich panels instead.
The Marble ACP sheet will offer your property a rich, rustic appearance that no one will be able to resist. The feel and appearance of the facade will fascinate anyone who looks at it. Moreover, the Marble ACP sheet comes in a variety of colors and patterns, allowing you to select the best option that matches your theme.
3. Adds Strength to the Structure:
You should note that aluminium composite panels are made up of multiple solid layers, the 3 most important of which are aluminum-polymer-aluminum. In addition, there are several other layers, such as paint coating and adhesive firm, in addition to these three layers or sheets. All of these materials combined to create an ACP sheet, which is a very durable construction material.
As a result, when you choose the Marble ACP sheet for the exterior, you're ultimately giving the entire building an extra dose of strength. The sheets will make the construction extremely durable and protect it from everyday wear and tear as well as environmental damage. Overall, the ACP sheet's remarkable architecture is another reason to use it for a facade.
4. Protect Your Property from Fire:
Hundreds of properties get severely damaged by fire every year for varying reasons. The fire accidents destroy not only properties but also cost several lives. As a result, it's critical that we always select a fire-resistant construction material. Fortunately, ACP sheets are extremely fire-resistant.
The aluminium composite panels' core substance is fire-retardant (FR). This will prevent the fire from spreading to other areas by preventing it from passing to the other side. In addition, typical marble ACP sheets can resist fire for over two hours. This means you have ample time to gather resources, save lives, and put out the fire before it spreads.
5. Provide Moisture Insulation:
Moisture, like fire, is another major issue that impacts building quality. It will corrode the iron used in the building, weakening the overall structure. As a result, it is critical that you use a moisture-resistant construction material only. Thankfully, the marble ACP sheets insulate the structure from moisture.
Since it is constructed of many components, such as paint coating and aluminum, it will prevent moisture from entering the structure or passing from one area to another. This high-quality ACP sheet will help extend the structure's lifespan while also lowering maintenance costs.
6. Easy & Quick To Install:
The ease of installation is the sixth benefit of marble ACP sheet or reason to choose ACP for the facade. Compared to other facade construction options such as concrete, wood, tile, brick, ceramic, timber, coating, stone, and wood-plastic composite ACP sheets are easy and quick to install. All you have to do is choose the perfect ACP sheet size and install the sheets one by one.
Moreover, most major ACP sheet manufacturers, such as Areca, supply customized ACP solutions. So, if the standard sizes don't meet your needs, you can always ask them for customized marble ACP sheets. In a nutshell, ease of installation is another compelling reason to choose the ACP sheet over other building solutions.
So these are the six characteristics of sandwich panels that explain why they are one of the best facade building materials. From quality to appearance to moisture resistance, it has everything that modern structures require.
Areca is a renowned ACP sheet manufacturer in India, known for its quality products and an extensive collection of ACP sheet solutions. Areca's 3 primary offerings are interior ACP sheets, exterior ACP sheets, and digital ACP sheets. Inquire now to learn more.