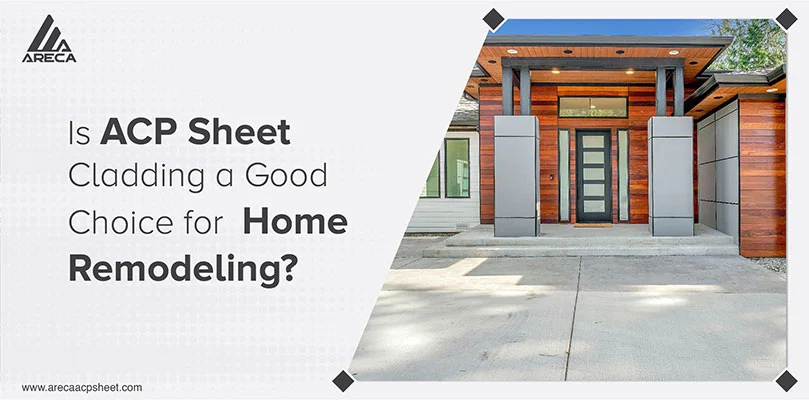 Aluminium Composite Panel, also known as ACP sheet, has emerged as a primary cladding construction material in past years. Thanks to the many qualities and features it possesses, more and more architects are choosing ACP sheet for cladding over other construction solutions such as brick cladding, glass cladding, timber cladding, and so on.
However, so far, ACP sheets have primarily been used for commercial purposes. But, you might be surprised to learn that ACP sheet cladding can also be a good option for residents.
7 Qualities of ACP Sheet Cladding That Makes It Suitable For Home Upgrade
The following is a list of 7 characteristics of ACP sheets, be it wooden texture ACP sheets, marble sheets, or mirror sheets.
1. ACP Is a Cost-Effective Solution:
The first major advantage of choosing a wooden texture ACP sheet or any other ACP sheet for cladding for home remodeling is cost savings. Yes, when compared to other cladding solutions such as glass, brick, or metal, ACP sheet cladding is the most cost-effective.
ACP sheet costs about INR 70-85 per square foot on average. However, keep in mind that as you select premium ACP sheets, the prices will rise. Another factor contributing to the low cost of ACP sheet cladding is its ease of installation and maintenance. ACP sheet installation and maintenance are simple and inexpensive.
2. ACP Can Be Customized To Reenact Multiple Texture:
ACP sheets can be used to simulate a variety of textures. You can reenact a wooden appearance with a wooden texture ACP sheet a marble appearance with a marble exterior ACP sheet, and a metallic texture with a metallic exterior ACP sheet. Remember that you don't need to buy anything else besides the ACP sheet to customize the look.
Aside from wooden, metal, and marble textures, ACP sheet cladding also comes in a variety of other textures such as brush, glossy, mirror, galaxy, and rustic. Overall, ACP sheet cladding allows you to achieve your desired texture without sacrificing quality.
3. ACP Is Easy To Install :
ACP sheet is an easy-to-install solution. Compared to other cladding solutions such as brick, metal, glass, wood, ceramic, or timber, ACP cladding is much easier to install. You won't have to worry about anything else once you've determined the ideal size for the ACP sheet.
Besides that, when you buy ACP sheets from a reputable ACP sheet manufacturer, such as Areca, you have the option of having a customized ACP sheet. This means that you will receive a custom-sized ACP based on your specifications, making the installation process easier and more seamless.
4. ACP Requires Minimum Maintenance:
Cleaning is an important part of keeping the structure in good condition for a long time. Although ACP sheet cladding requires cleaning, the ratio and effort required are lower when compared to other types of cladding. Even routine cleaning will help you keep ACP sheets in good condition for a long time.
However, keep in mind that the frequency of cleaning is also influenced by other factors such as soiling rate and weather conditions. If your facility has ACP sheet cladding and is located in a heavily industrial area, you will need to clean it thoroughly 2-3 times per year. Similarly, if it's in a city, a once-a-year cleaning will suffice.
5. ACP Offers High Weather Resistance :
One of the key characteristics that distinguish the ACP sheet as an ideal cladding solution for the home renovation is its weather resistance. ACP material is both UV resistant and waterproof. This means it can withstand sun, rain, and frost. Because of this, ACP is an excellent cladding material for both indoor and outdoor applications.
Weather resistance will eventually extend the life of the overall structure while also lowering maintenance costs. All of these advantages will contribute to ACP sheet cladding becoming more affordable and suitable for home improvement.
6. ACP Requires Minimum Maintenance:
ACP designs appear more elegant and sleek. It is easily moldable with all types of interior styles. Since there are numerous textures available, such as glass, mirror, metallic, and wooden texture ACP sheets, you can select the best one for your home's interior style and budget. Furthermore, the gleaming quality of the ACP lends a modern appearance to the overall construction.
What's more, you can select different ACP sheet cladding for different rooms. For example, in the bedroom, you could use galaxy ACP sheets, in the living room, metallic ACP sheets, and in the outdoor or kitchen, wooden texture ACP sheets. Overall, versatile and modern designs are another reason to choose ACP sheets for home remodeling.
7. ACP Provides Fire-Insulation :
If you remember the Grenfell Tower fire in London in 2017, you understand how critical it is to have fire-resistant cladding. Following that incident, significant changes were made to make ACP fire-resistant and to avoid similar incidents in the future. Modern ACP sheets cladding provides significant fire insulation to the structure, preventing it from being damaged by unforeseen events.
The fire insulation property of ACP sheet will not only prevent fire from spreading all over the place during the incident, but it will also keep the inside warm and nice on hot sunny days.
With all of these benefits of ACP sheet cladding; it is clear that aluminum composite panels are a good cladding option for home remodeling.
Read More: Areca manufactures and supplies a variety of aluminum composite panels to USA and other countries that can be used to construct modern-style structures. Its ACP sheets are eco-friendly, water-resistant, have outstanding flatness, and UV resistant. Visit our Collection to explore wide and diverse range of Areca ACP sheets.