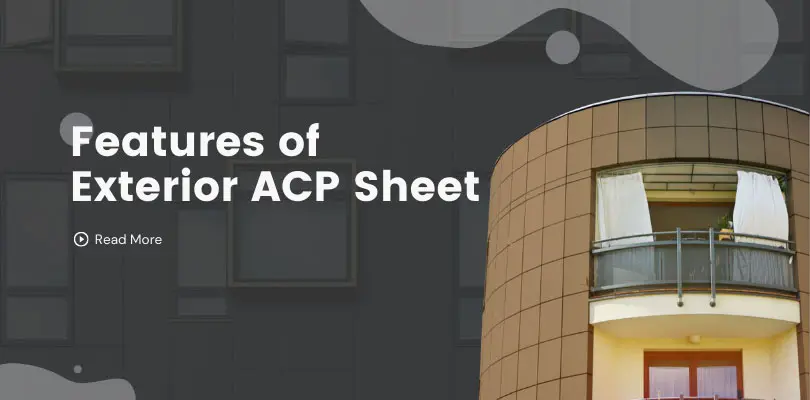 Do you want to get the durable, long-lasting, cost-effective, and modern structure for your exterior wall? The ACP sheets are an ideal option for exterior with good strength, remarkable flexibility, and lightweight. It is fact that the ACP sheet makes your first impression by giving an aesthetic and attractive look to your exterior wall.
There are 9 different exterior ACP sheets which are categorized as – Marble, Rustic, Mirror, Brush, Wooden, Metallic, Glossy, Galaxy, and solid colors. Let's understand all these ACP sheets with its features.
9 Types of Exterior ACP Sheets with its Feature
The marble exterior ACP sheet is a popular and best option for exterior cladding in modern architecture. The most important thing about this ACP sheet is that it gives a great look despite being inexpensive.
This ACP sheet has several important features such as ease, fire resistance, and protection against the harshest of weather and dust, and is easily recyclable. It has numerous collections in colors or patterns like Black, White, Red, and other colors.
The wooden look has been quite popular since ancient times and hence today Wooden exterior ACP sheet becomes a great and modern option for you. Wooden ACP sheet is an evergreen option for the person who loved nature and gives their space a natural look.
This ACP sheet is protective against bacteria and fire so it is the most preferable ACP sheet for corporate, stores, airfields, malls, etc. Wood ACP sheets are defending in contradiction of UV radiation and other atmospheric perils.
Looking for a rustic surface in wooden impression? The rustic Facade ACP sheet provides the look as wooden with a rustic and scratch-resistance sheet for the exterior. This sheet also gives a natural look.
A rustic ACP sheet protects your space against the dust and UV radiation of sunlight and gives an attractive look to your exterior wall.
Metallic ACP sheets bring a rich visual impression. These sheets provide long durability, bleach resistance, and make your space warm. A metallic ACP sheet surface reflects more light than a glossy surface.
Metallic ACP sheet is available in 3mm to 6mm thickness for exterior surfaces. Another attractive component of this sheet is available in a 12 different colors in metallic ACP sheets.
Brush ACP sheets are a versatile material that keeps your exterior modern and stylish. Nowadays, these sheets are highly demandable because of their unique brush textures. Brush exterior ACP sheet available in two colors which are Silver and Gold.
Additionally, these ACP sheets provide exceptional flatness, high flexibility, best durability, strength. Another benefit of these sheets is you can use a single color for all exterior walls. The brushed ACP sheet is available in a lot of sizes.
Glossy sheets are undergoing multiple quality enhancement processes which give the high durability and strength to protect against sunlight. By choosing this sheet for your exterior you get a bright and unique structure.
Glossy sheets have three colors which are White, Black, and Red. The benefits of these sheets are it gives your space uniqueness, high strength to endure atmosphere and UV radiation.
The mirror ACP sheet will reflect all things which are in front of it. No need to worry about breaking after applying this sheet because this solution is made of the cover of higher pressure mirror-like PE and PVDF.
Mirror ACP sheet available in two different colors – Golden and Silver. These sheets provide benefits like a reflection like water, provide an awesome look to your space, and add valuable strength to your property.
Galaxy ACP sheets are known for their wonderful quality and uniqueness. The structure of this sheet is very elegant and beautiful; it makes your exterior high valuable. Galaxy ACP sheets are a unique finish for your space.
These ACP sheets are available in Black or White color. It is quite strong despite being lightweight. Galaxy ACP sheets enhance the structure's elegance and give your space a dazzling & magnificent appearance.
If you want your exterior surface simple then Solid color ACP sheet is preferable. Solid color ACP sheets can be used for both interior and exterior applications such as advertising signboards, electrical tools, fireboxes, and wallboard.
This ACP sheet is the best choice for the corporate sector. Solid ACP sheets are available in White, Black, Grey, Orange, Pink, Blue and other different colors.
So, these are the features of all categories of ACP sheet. By choosing any of them you must get advantage of High strength, Durability, and cost effectiveness. This all are makes ACP sheet the finest choice for your exterior wall.
Areca comes in the top list of ACP sheet manufacturers in India and provides the exterior ACP sheet with good quality and low price and also available in various ranges of colors and applications. The company offers 9 categories of ACP sheets with their features to make your exterior wall durable and attractive.Enquire us for more details.