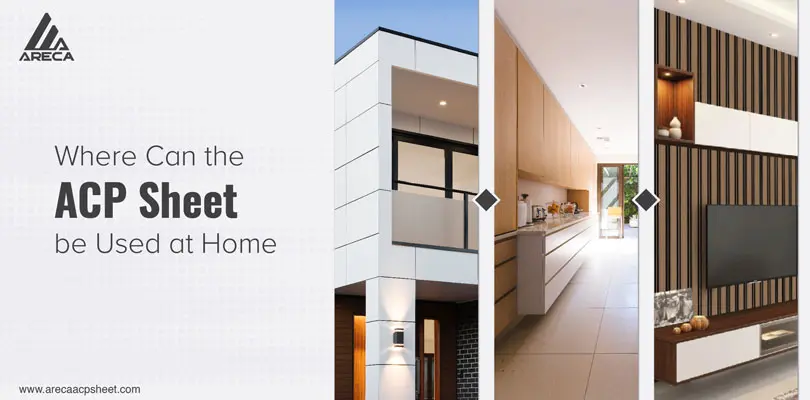 ACP sheet also known as the aluminum composite panel has become one of the most popular and modern-age material right now. Because it gives more benefit in less price. ACP panel has many advantages such as it is easy to install, durable, lightweight, water-resistant, UV resistant, eco-friendly, and requires very little maintenance.
Aluminum composite panels are mostly used in corporate sectors such as offices, companies and malls. Especially, it is very trending in the form of exterior wall cladding. But most people don't know that ACP sheets can also be used at home.
So in this blog, we will see some popular applications of ACP sheets for home.
Top 5 Popular Applications of ACP Sheet At Home:
1. Kitchen Furniture:
Currently, ACP sheets are the most popular for modern home kitchens furniture, especially on the trolleys, cabinets and cupboards of the kitchen. Many people still make wooden furniture in the kitchen but it is a bit expensive and requires a lot of care in cleaning.
Against this, the furniture of the ACP panel is quite cost-effective, strong and easy to clean. Apart from this, scratch and water-resistant ACP sheets are also available in the market, which can make your kitchen furniture even better.
Therefore, if you are thinking of making kitchen furniture, then we would suggest that you definitely try the furniture of ACP sheet.
2. False Ceilings:
False ceilings are very important in any home and office as it makes the space more precious and also protects you from the heat of the outside.
There cannot be a better material than an ACP sheet for false ceilings because it is a good heat insulator that can prevent heat. Also, ACP panels are available in a variety of colors and finishes such as marble, wooden, rustic, etc. This allows you to do various attractive customization in a false ceiling.
All these advantages make the aluminum composite panel an ideal material for a false ceiling.
3. Partitions Panel:
Today there is a shortage of space everywhere whether it is an office or home. And as a solution to this problem, people have also found the option of partition. So that the same space can be used as separate independent spaces.
ACP partition panel is the best option for partition due to its robustness. Along with this, the panels are available in lots of different colors so you can choose the perfect color according to your home or office theme.
4. Decorative Material:
As you know, ACP sheet is available in many different finishes and colors, due to which you can create unique designs by combining all of these sheets. In addition to these finishes, 3D and pre-designed ACP panels are also available in the market.
The aluminum composite panel is very flexible, so it can be molded into any shape to some extent. Also, the sheet can be easily cut into any shape & size and can be easily combined with each other. Due to all these qualities, ACP sheets are used extensively as a decorative material.
5. Home Exterior Cladding:
ACP panels are thermal resistance, moisture resistance and anti-corrosion due to which these sheets are widely used as home exterior cladding. Also, these sheets are available in many different finishes and colors.
Hence it lasts longer as compared to other materials and gives a stunning look to the exterior of your home. Moreover, this aluminum composite panel prevents outside noise to some extent and gives you a peaceful atmosphere.
These are some of the most popular applications of Aluminum composite panels that you must use at home. All these applications can give a unique and attractive look to your home at a low cost.
If you are also curious to know where ACP sheets can be used in commercial buildings, then check out our blog: Best ACP sheet cladding solution for commercial buildings.
At Areca, We manufacture different types of interior and exterior ACP sheets such as wooden, glossy, marble, mirror and more. To see our all types of ACP sheets, check our Collection.