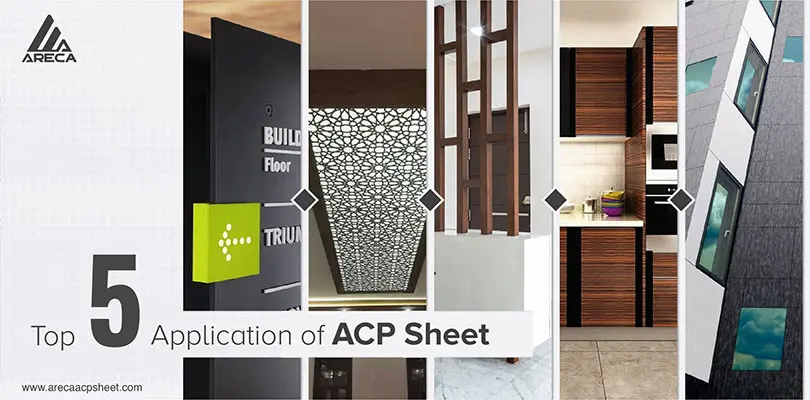 An Aluminum composite panel is the best modern architecture and provides a beautiful and eye-catching look with a good impression. It is ideal for indoor and outdoor applications.
Due to many features of this sheet such as lightweight, cost-effectiveness, highly durable, and more, it can be used in different places. Even this ACP sheet can be easily molded into any shape to some extent. Because of this versatility, the panels can be used as columns, partitions, noise-barrier walls, furniture, false ceiling interior wall, escalator cladding, and many other places.
Let's understand all applications in detail.
Top 5 Application of ACP Sheet
Here, we describe most 5 popular application of aluminum composite panel which helps you to choose a suitable ACP sheet for your place.
A false ceiling is one of the things that can turn your ordinary room into an extraordinary room and give it the beautiful look. If you use an aluminum composite panel as a false ceiling you owned a bunch of benefits such as Moisture and weather resistance, ease to clean, and much more.
The fire-resistant ACP sheets are also available, so it can be safe to use them as a false ceiling because usually, the ceiling is used for concealing wires and LED lights.
The aluminum composite panel is widely used in interior furniture, cupboards, bookshelves, wardrobes, tabletops, and other furniture units because it provides a sleek, smooth, and sturdy surface. The ACP sheet is also used in modular kitchens because of its moisture and water resistant ability.
This sheet is used for the furniture of the living room, bedroom, kitchen, commercial area because it gives aesthetic look with the wooden , marble, and other ACP sheet finishes.
At present, due to Corona, most of the people are working from home. In this, everyone faces the problem of the place to work because of limited space.
For this problem, the Partition panel is the best solution. Using this, the same room can be used as two independent rooms by dividing it into two places.
For the partition panel, the ACP sheet is most preferred. Because it has the capability to provide long life. The aluminum composite panel provides exceptional durability with lightweight and long life to the partition.
Nowadays, this panel gets a favorite for commercial and residential wall partition because it is also cost-effective. You also have various color options in the partition panels.
Signage is used to exhibit the name of the business, shops, and any kind of hoardings. It can also use to display the name plat of the house, so it must be attractive, durable and simple as like ACP sheet.
An aluminum composite panel is a perfect choice for signage because it provides different variations in thickness, is available in different finishes, sizes, colors, patterns and is also very cost-effective.
A versatile aluminum composite panel is the ideal choice for facades and any kind of exterior architecture. These sheets are very popular for cladding because of their longevity, durability, and versatile nature.
ACP sheet protects the structure in any weather condition. Also, this sheet maintains its thickness and color by UV radiation of sunlight. Even this sheet can survive in a haze atmosphere because it is weather and moisture-resistant.
Thus, these are the top 5 applications of ACP sheet where you must use it. We have also seen some features of this ACP sheet, but if you want to know how exactly this sheet protects any structure, then you can check our blog How Does Aluminum Composite Panel Add Strength To The Structure?
Areca is the leading manufacturer and exporter of ACP sheets with their various collections with different colors. Explore our catalog to see the various designs and finishes of aluminum composite panels.